Browse all articles for: Forklifts
Your Complete Guide to Understanding New and Used Forklift Prices
Last Updated: October 15, 2023
CostOwl.com note: Need a forklift at an affordable price? Fill out the 30 second questionnaire below and our forklift partners will send you free price quotes.
Summary: Average Forklift Price #
A standard capacity forklift will cost between $15,000 and $35,000. A 10,000 lb capacity forklift will cost between $30,000 and $45,000 while a 35,000 lb capacity forklift with cost up to $100,000. Generally, the more weight a forklift can handle (operating capacity), the more a forklift will cost.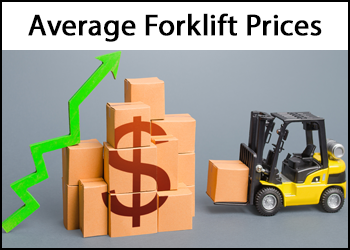 For businesses that must move heavy items, few pieces of equipment are as effective or as valuable as a forklift. Distribution depots, warehouses, lumber yards, manufacturing plants, and other work environments handle loads weighing 3,000 to 30,000+ pounds. They commonly use forklift trucks to keep their operations running smoothly. Although lift trucks are a big investment, the amount of man hours it can save makes the purchase of one more than worthwhile. But, to make sure you don't buy more than you need it is important to understand your business' requirements and the different types of forklifts that are available.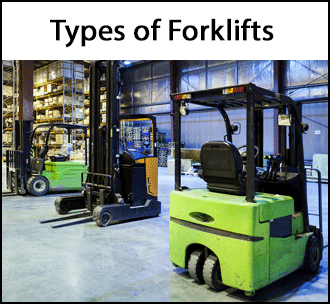 Forklift Pricing by Type #
Here are typical price ranges for new forklifts by type:
Counterbalance Forklifts
Small (3,000 - 5,000 lbs): $15,000 - $25,000
Medium (5,000 - 10,000 lbs): $20,000 - $35,000
Large (10,000 - 15,000 lbs): $25,000 - $50,000
Reach Trucks
Small (2,000 - 3,000 lbs): $15,000 - $25,000
Medium (3,000 - 5,000 lbs): $20,000 - $35,000
Large (5,000+ lbs): $25,000 - $45,000
Order Pickers
Small (2,000 - 3,000 lbs): $20,000 - $30,000
Medium (3,000 - 5,000 lbs): $25,000 - $40,000
Large (5,000+ lbs): $30,000 - $50,000
Pallet Jacks
Manual: $150 - $300
Electric: $1,000 - $3,000
Rough Terrain Lifts
Small (5,000 - 10,000 lbs): $30,000 - $50,000
Large (10,000 - 15,000 lbs): $40,000 - $70,000
Prices vary based on features and options. Used forklifts typically cost 40-60% less than new.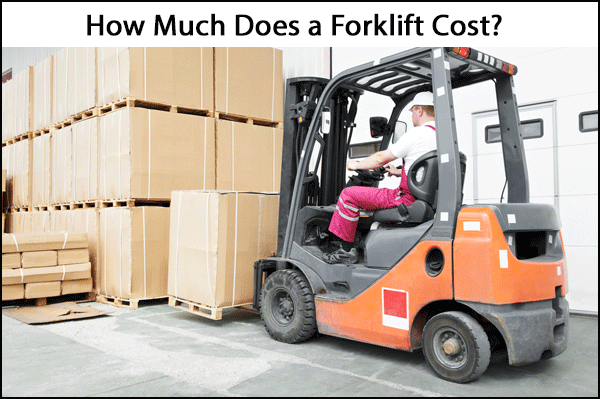 Cost Insights from Forklift Owners #
We interviewed several forklift owners to learn about their real-world experiences purchasing lift trucks. Here are some examples detailing the models they bought, what they paid, and their impressions:
I bought a used 5,000 lb Toyota 8FGU25 propane forklift for $21,500. It had around 12,000 hours but was in good condition. It has worked reliably for our warehouse needs.
We purchased a new Jungheinrich ETV 214 electric pallet jack for $2,800 to move inventory in our retail store. It can lift 2,600 lbs which is perfect for maneuvering in tight spaces.
I found a used 2,500 lb Yale electric sit-down forklift for only $7,500 on an online auction site. It's an older model but runs well and fits our budget.
We upgraded to a new 10,000 lb capacity Hyster H100FT LPG forklift for $36,000 fully equipped. This was a big investment but necessary for our growing manufacturing plant.
I bought a used Toyota 7FGCU15 manual pallet jack for $225. It's seen some wear but gets the job done affordably for my small warehouse.
I purchased a used 5,000 lb Crown RC5500 electric reach truck for $18,000. It had around 15,000 hours but was gently used. It's perfect for our narrow aisles.
We leased a new 6,000 lb Raymond Model 102TT order picker for $375/month over 5 years. This allows us to get a high quality lift without huge upfront cost.
Popular Forklift Models #
Toyota 8FGU15
Capacity: 5,000 lbs
Type: Cushion tire forklift
Price: $20,000 - $30,000
Hyster H50FT
Capacity: 5,000 lbs
Type: Pneumatic tire forklift
Price: $25,000 - $35,000
Crown RC 5500
Capacity: 5,000 lbs
Type: Electric reach truck
Price: $30,000 - $40,000
Yale MO20
Capacity: 2,000 lbs
Type: Electric order picker
Price: $25,000 - $35,000
Raymond 102TT
Capacity: 6,000 lbs
Type: Order picker
Price: $35,000 - $50,000
Toyota 8FBM30
Capacity: 8,000 lbs
Type: Electric forklift
Price: $40,000 - $50,000
Prices vary based on specifications, options, and condition. But these models consistently rank among the most purchased new and used forklifts.
Instructional Video: How to Buy a Forklift. All your questions answered! #
Watch the video below to find out everything you need to know when purchasing a forklift.
CostOwl.com note: Need a forklift at an affordable price? Fill out the 30 second questionnaire below and our forklift partners will send you free price quotes.
Factors That Affect Average Forklift Costs #
Your decision to buy an electric or internal combustion forklift partially determines the overall cost of a new machine, but there are additional factors to consider as well, including:
Type of tires: Solid rubber cushion tires are best for indoor use and cost less, while more expensive, compressed-air inflated pneumatic tires are more durable but also costlier.
Safety and comfort: A safer, more ergonomic vehicle may cost more, but could keep your workers safer, more comfortable, and by extension, happier and more productive. And speaking of safety, the Occupational Safety and Health Administration (OSHA) has strict regulations for forklift operation, including licensing and re-certification, that you must comply with.
Work Conditions: Will the forklift be operating in large areas or narrow spaces? How heavy are loads and how high do they need to be moved? Understanding a forklifts primary use will facilitate your purchasing choice.
Add-ons: Attachments that allow a machine to pick up loads of different sizes and shapes (such as spools, large drums, and items that aren't on a pallet) can be added to a forklift to increase its functionality.
Questions To Ask When Buying a Used Forklift #
Why Is the Forklift Being Sold? When purchasing a used forklift, the first question you should ask is why the owner is selling it. You don't want to buy it and find out later that there is a slew of problems set to cost you just as much (if not more) than if you had paid for a brand new forklift. Make sure to get as much information from the owner as you can before finalizing any purchasing decisions. If the seller provides nothing but vague answers, you might not be getting the full history of the machine. Never settle for a unit that you don't know everything about; you can always find another one from a seller that gives you the complete truth.
What are the Capabilities of the Forklift? Before you start looking for forklifts, it is important that you know what it needs to be able to do. Consider factors such as the height you need, the surface the forklift will be operating on, and the weight it needs to carry. If you go into your purchase without knowing this information, you run the risk of buying a product that won't fit the needs of your business and wasting your money.
What are the Maintenance Costs? The cost of maintenance can add up quickly and may wind up costing you more than the forklift itself in the long run. You need to know if the forklift has a history of breaking down or malfunctioning and, if so, how often. If the unit has a habit of consistently requiring maintenance, then odds are it's a money pit. Also consider the availability of parts, because even if maintenance costs are low, the expense of difficult to find replacement parts and time spent finding and receiving them is not worth it. Make sure to gather all available information about the maintenance required by a forklift before any purchase is finalized.
What is the Hour Reading and History? You should know the amount of time that your potential forklift has been in use, as well as what it has been used for. You can get the time from the overall hour meter on the unit itself, but the history of the machine will have to be asked about. Although the unit's full history may not be known, any answers you get are useful in determining what it has been used for and how that will affect the unit in the future.
Can I do an Inspection? All used forklifts should be purchased from a reputable dealer in order to ensure you get the best possible equipment. Even with a reputable dealer, though, you should still perform an inspection yourself before making the purchase. Make sure to check the overall condition of the cab and the operation components, as well as the canopy, cowling, and frame. Also check the cylinders, forks, lift chains, mast, and mast rails for any cracks, distortion, general damage, and warping. Look over the engine compartment to make sure there are no leaks or other signs of trouble. Any other concerns or questions should be addressed by the seller. If they do not answer, or hesitate to answer, don't be afraid to walk away and buy through a seller that is willing to give you all the information they have.
Are There Attachments Included? Different dealers will have different packages and purchase options available. Additional attachments and tools are almost always available with the purchase of a forklift, but some of them may be included. Ask your dealer what comes with the unit and what needs to be purchased separately.
Everything listed above is integral to the process of purchasing a used forklift. A used forklift can save you and your business a lot of money, but it can also cost a lot of money down the line if you don't put the proper effort into the buying process.
Resources:
Use Our Free Service and Find Forklift Dealers #