Browse all articles for: Forklifts
Forklift Rental Prices: What You Need to Know
Last Updated: July 17, 2023
CostOwl.com note: Need a forklift at an affordable price? Fill out the 30 second questionnaire below and our forklift partners will send you free price quotes.
Quick Summary: Forklift Rental Cost #
Expect to pay $100 to $700 daily, $400 to $3,000 weekly or $1,000 to $10,000 monthly to rent a forklift depending on the forklift capacity required. Delivery and pickup fees add around $100 to the total cost.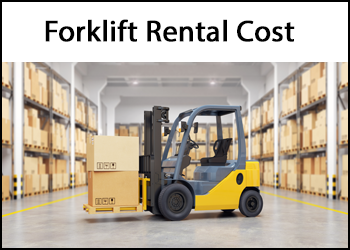 If going without a forklift is not an option for your business but you are put off by the high cost of buying one, renting a forklift could be the perfect solution. Whether your forklift needs are short term, or you simply don't want to deal with the hassles and high costs of maintaining a lift truck, forklift rental might be the compromise you've been looking for. This buying guide will explore the advantages of forklift rental, go over what to consider before renting, and provide basic forklift rental pricing information.
Average Forklift Rental Costs – Sample Prices #
Now that we've covered the basics of forklift rental, it's time to look at how much it costs to rent a forklift. Because regional prices can vary significantly, the following forklift rental costs should only be considered a rough guide.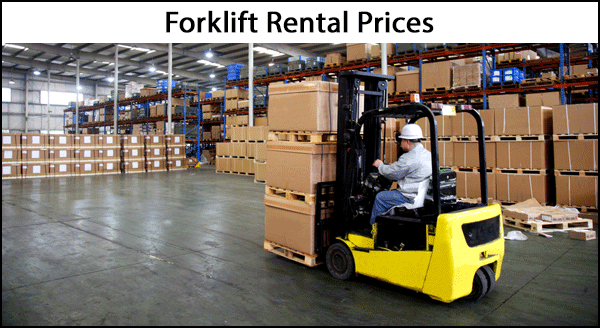 Rental Duration
Capacity
Average Cost Range
Daily
3,000 to 5,000 lbs.
$100 - $500+
6,000 to 10,000 lbs.
$150 - $500+
10,000 to 30,000 lbs.
$200 - $700+
Weekly
3,000 to 5,000 lbs.
$400 - $2,000+
6,000 to 10,000 lbs.
$500 - $2,500+
10,000 to 30,000 lbs.
$600 - $3,000+
Monthly
3,000 to 5,000 lbs.
$1,000 - $5,000+
6,000 to 10,000 lbs.
$1,500 - $7,500+
10,000 to 30,000 lbs.
$2,000 - $10,000+
Examples of Forklift Rental Pricing #
We gathered these first-hand rental pricing accounts to provide real-world examples of typical costs for short and long-term forklift rentals across various models and capacities.
I rented a 5,000 lb capacity Toyota forklift for a weekend construction job. The rental was $450 for 2 days from the local equipment rental place.
Our small shop rented a 3,000 lb Hyster reach truck for about 6 weeks during a busy season. It was $1,750 per month including delivery fees.
We needed an 8,000 lb forklift for just a day to unload materials for a big project. The 24 hour rental rate we found was $275.
I paid $600 to rent a propane-powered 10,000 lb capacity lift for 3 days for a warehouse unpacking job. It was the minimum rental period.
Our landscaping company rented a small 2,000 lb electric forklift for a month during peak season for $950 total. We used it for moving pallets of sod.
The industrial plant I work at rents a large 18,000 lb diesel lift each year for 2 months for $7,500 per month including delivery and pickup.
Video: 5 Things to Know Before Renting a Forklift #
Watch this video to learn some facts before renting a forklift.
CostOwl.com note: Need a forklift at an affordable price? Fill out the 30 second questionnaire below and our forklift partners will send you free price quotes.
The Benefits of Renting a Forklift #
For those interested in a short term or long-term forklift rental, there are many reasons why these options can be more appealing than forklift ownership, including:
No Long-Term Commitment: This is a particularly attractive option for companies with seasonal business that may need additional equipment only for certain portions of the year. In addition, you can rent a forklift to temporarily replace a piece of equipment that is out of service or because you need a machine with a higher capacity or reach for a particular job. Also, renting a forklift is the perfect way to try out a new piece of equipment before you make the considerable investment.
Saving Money: If you only need to run a forklift a few hours a day or to complete a particular job, buying just doesn't make financial sense. Instead of tying up large amounts of capital in a new forklift, you can direct your money to what really matters—growing the business.
Fewer Hassles: When you rent a forklift you are receiving a relatively new machine that has all the modern features that will keep employees happy and workplaces safe and efficient. And if anything goes wrong with the machine, you generally won't get stuck with the cost or hassles of maintenance.
Things to Consider When Renting a Forklift #
Before signing on the dotted line for a forklift rental, there are a number of factors that should be considered. Some things to think about pre-rental are:
Job-Specific Needs: This includes an assessment of the type, size, and weight of materials to be moved, how high they need to go, the conditions the forklift will operate in, and any optional equipment such as attachments and safety gear that might be necessary.
The Rental Length: Forklift rentals are typically available in daily, weekly, and monthly increments. Understanding how long you will need to rent the machine will help you choose the right contract length, and extended rentals can often save you money. Also keep in mind that most rental prices are based on specific daily, weekly, and monthly hourly allotments, and overtime could apply if you exceed them.
Service Plans/Insurance: Be sure to consider forklift rental service plans, including preventative or full maintenance plans, to protect your investment. Also understand that even with a maintenance plan, you will need your own insurance to cover your workers and place of business in the event that the rented forklift is involved in an accident.
Resources:
Use Our Free Service and Find Forklift Dealers #