Browse all articles for: Steel Buildings
Cost to Build a Steel Framed Home - Estimates & Real Examples
Last Updated: September 22, 2023
CostOwl.com note: Need a steel building at an affordable price? Fill out the 30 second questionnaire below and our steel building partners will send you free price quotes.
Quick Summary: Residential Metal Building Prices #
A basic 2,000 sq ft steel framed home will often cost $150-$200 per sq ft to build. High-end custom homes cost over $300 per sq ft.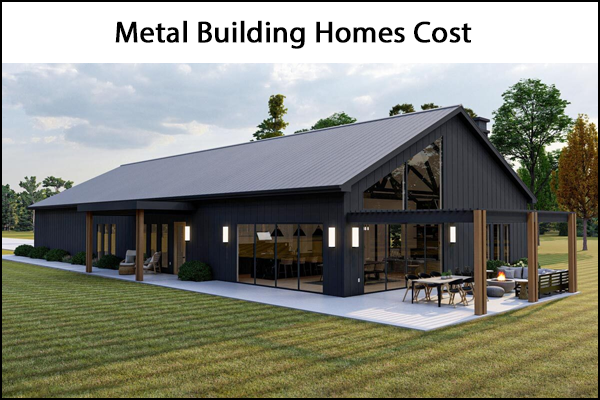 Although you may have heard of steel being used to build warehouses, barns, and other storage facilities, the idea of residential steel buildings may seem a bit unusual. But, the same reasons that make steel a desirable building material for a wide range of commercial and industrial applications—cost effectiveness, speed, eco friendliness, and low maintenance—also make it an outstanding choice for residential construction. As we move towards a more practical and sustainable society, people are looking for materials that provide more efficiency and less environmental impact. If you want to be on the cutting edge of home construction, then keep reading to find out more about residential metal buildings, including how much you can expect to pay for one.
Reasons to Buy a Residential Steel Building #
Residences constructed from steel provide a number of advantages over those made from traditional building materials, including:
Price and Speed: All of the pieces for a residential metal building are pre-fabricated, which makes construction more closely resemble assembly. As a result, pre-engineered steel buildings can reduce labor costs by around 1/3 and be ready to move into much sooner than conventionally built residences.
Maintenance-free quality: Steel has a superior strength to weight ratio, and steel residential buildings are, therefore, stronger and lighter than traditionally framed buildings. Also, because metal stands up better to the elements, structures made from it do not warp, crack or shrink the way wood buildings do. In fact, some steel building manufacturers are so confident in their products that they offer 30 year guarantees.
Better for you and the environment: One of the greatest benefits of using steel building kits for residences is that they provide outstanding indoor air quality due to their ability to resist the growth of molds. A residential metal building also does not require the chemical additives that a wooden structure often does to keep away termites and other pests. And you'll also be creating a lower ecological impact with prefab steel buildings because they generate less waste and the metal is 100% recyclable.
Customized looks: A steel residential building can be made to look just like any other home on the block, both inside and out. The layout, decoration, finish, and insulation are totally customizable,
so you won't have to sacrifice aesthetics or comfort to get an affordable, low-maintenance, environmentally friendly metal residential building.
Residential Steel Framed Building Average Costs #
Here is a detailed breakdown of the typical costs to build a steel framed home:
Land Costs - This can vary widely based on location, but plan on $30,000-$150,000 for a home site.

Foundation - A concrete slab foundation for a 2,000 sq ft home generally costs $15,000-$30,000. Basement foundations are more.

Steel Frame and Walls - The steel frame and exterior wall panels usually run $15-$25 per sq ft. For a 2,000 sq ft home, that equates to $30,000-$50,000.

Interior Framing - Metal studs for interior walls cost around $2-$3 per sq ft, or $4,000-$6,000 for a 2,000 sq ft home.

Insulation - Spray foam or rigid foam insulation costs $1-$3 per sq ft installed. Figure $2,000-$6,000 to insulate a 2,000 sq ft house.

Windows and Doors - Figure $10,000-$20,000 for good quality windows and exterior doors for a basic 2,000 sq ft home.

Roofing - Metal or asphalt shingle roofing can range from $6,000-$12,000 installed on a simple 2,000 sq ft home.

Exterior Siding - Brick, stone, stucco or vinyl siding costs $6-$12 per sq ft installed. For 2,000 sq ft, that's $12,000-$24,000.

Utilities - Hooking up electrical, plumbing, HVAC, can cost $10,000-$20,000 for a basic home.

Interior Finishes - Drywall, paint, trim, floors, etc. costs approximately $15-$25 per sq ft. For a 2,000 sq ft home, figure $30,000-$50,000.

Kitchen and Bathrooms - Allow $15,000-$30,000 for a basic kitchen and 1-2 bathrooms. Custom work costs much more.
Total Cost: $150,000-$300,000+
So in summary, a basic 2,000 sq ft steel framed home will often cost $150-$200 per sq ft to build. High-end custom homes cost over $300 per sq ft. Location also greatly impacts overall budget.
Examples of Steel Home Prices Paid #
Here are some real-life examples of steel framed home costs with details:
A 2,500 square foot steel framed home built in Austin, Texas in 2022 cost the owners $420,000 to construct on their suburban property. This included a 20x40 foot steel garage and upgrades like quartz countertops.

A retired couple built a 1,800 square foot steel cottage style home on a lakefront property in Upstate New York in 2021 for $265,000. This price included the steel package, foundation, and having it fully erected.

An empty nester couple constructed a modern 2,200 square foot steel home in the outskirts of Seattle, Washington in 2020. The total cost came out to $320,000 which consisted of the steel frame and wall panels, windows, roofing, and interior finishings.

A young family looking for an affordable new home opted to build a 1,500 square foot steel framed starter home in Austin, Texas in 2019. Their total cost was $180,000 which included the steel structure and having it fully turnkeyed.

A retired veteran had a 1,200 square foot steel cottage home built on some acreage he purchased in rural Missouri in 2018 for $140,000. This consisted of the steel shell kit, foundation, roofing, and basic interior finish.
As you can see, steel framed home prices can vary based on size, location, finishes, and overall completeness. But generally they provide an affordable construction method compared to traditional wood framing.
What Do You Need to Do Before Your Steel Building Is Delivered? #
Here are the key steps needed to prepare a site for a steel home build:
Clear and level the site - Remove any trees, vegetation, debris. Level and compact the soil.

Install erosion control barriers - Put up silt fencing or straw bales to prevent runoff.

Excavate for foundation - Dig out the area for the home's foundation.

Pour concrete foundation - Hire contractors to pour a reinforced concrete foundation.

Install anchors - Bolt anchor bolts into the foundation to secure the steel framework.

Run utilities - Have electric, water, sewer lines buried and stubbed up.

Install drainage - Create proper drainage around the site to prevent water issues.

Pour driveway - If included, excavate and pour a concrete driveway.

Crane pad - Prepare a stabilized, level pad for the crane to assemble the steel structure.

Permits - Obtain all required building permits for the site work.
Properly prepping the site provides a stable, level base on which to erect the steel components and helps prevent future foundation or drainage problems. Taking the time to do it right is important for any home build.
It is important that the site of your steel building has been carefully thought out. The area must be properly staged, with enough room for the delivery driver to access the space. Be sure that all site-work has been completed before the delivery of materials.
You need to make arrangements for your erection contractor to be on-site on the day of delivery. They need to verify that everything has been delivered and accounted for. If you are erecting the building yourself, it is crucial that you be incredibly thorough to make sure no parts are damaged or missing.
If you have a contractor, be sure that your contract states who will be off-loading and staging the materials, as the manufacturer does not supply equipment or labor.
The equipment you need depends on the size of your building, but most necessitate pallet jacks, a crane, and/or a forklift rental.
Steel Building Design Plans #
Here are some steel home design plans available:
Ranch style - Single story, long and rectangular. Open floorplan.

Cottage style - Cozy and compact. Usually 1-1.5 stories. Craftsman details.

Cabin style - Rustic log cabin exterior. Often used for vacation homes.

Farmhouse style - Inspired by traditional farmhouse designs. Porches, dormers, shutters.

Contemporary - Clean lines, lots of glass, open concept. Modern styling.

Multi-level - 2 or more stories with stairs. Allows for more space.

Tiny home - Very small footprint under 500 sq ft. Maximizes small spaces.

Garage home - Living space above a steel garage. Good for limited space.

Custom - Fully customized plans based on owner's needs and wants.
With steel construction, nearly any floor plan can be adapted. There are many pre-designed plans available, or owners can have custom architectural designs drawn up. This versatility allows creating the perfect steel home.
Steel Building Production, Delivery and Assembly Time #
Here is how long steel home production and delivery takes:
Steel Home Production Timeline
Design & Approval: 2-4 weeks
Manufacturing: 4-10 weeks
Shipping: 1-3 weeks
So total time from order to delivery is approximately 2-5 months.
Manufacturing takes the bulk of the time as the steel components are custom cut and formed. The factory builds sections like walls, roof trusses, etc then loads them for delivery.
Once delivered, a steel home can be assembled and finished in as little as a few weeks by a professional builder. Steel buildings also need climate control, which requires additional work for the ducts and insulation. Exterior features, such as downspouts and gutters, add to the construction time.
Always be sure that the plans for your steel building are up to any codes or regulations within your area. Otherwise, you run the risk of having to change plans to meet these rules, extending the amount of time and work that goes into the project.
Common Building Codes #
Here are the common building codes for steel homes:
International Residential Code (IRC) - The IRC contains codes for residential steel frame construction. Most areas follow this code.

International Building Code (IBC) - The IBC provides codes for commercial steel buildings. Only applies to steel homes in some areas.

Wind speed requirements - Homes must withstand minimum wind speeds based on location risk. Generally 90-120+ mph.

Snow load requirements - Steel roofs must handle minimum snow loads based on climate. Typically 20-60+ lbs per sq ft.

Seismic standards - Steel homes in earthquake zones require bracing and anchors rated for seismic forces.

Foundation standards - Regulations for proper foundation design such as depth, steel reinforcement, drainage.

Energy efficiency - Steel envelope must meet minimum insulation R-values. Typically R-13 to R-21 walls, R-30+ attic.
Building inspectors will check that the steel home plans meet all required codes for the area during permitting. Certified designs pass inspections.
How to Shop for a Metal Building #
Metal buildings have their own unique construction issues, such as building codes and engineering. Consider the following items and direct questions to your vendor or contractor.
Building codes: You need to understand the building codes to determine whether there are any complications with the site itself and take care of any issues before you unwittingly violate some code and have to pay a fine.
Engineering: Look at design, function, and structural engineering to determine how well the building fulfills your needs.
Product quality: A well-made business metal building lasts years if not decades. Look at the materials lists, as well as roofing products and weather guards, to determine how well your building is likely to hold up against time and the elements.
Budget: When budgeting, expect to pay 10 to 15 percent more than the price you were quoted. If you were wrong, it's a pleasant surprise. If you were right, you aren't now scrambling for funds.
Extras: Painting, weather proofing, gutters, and trim are those little extras that indicate a higher quality product.
Watch: Prefab Metal Building Construction for an Affordable Home #
Watch this video to walk through an affordable metal building home conversion.
Resources:
Use Our Free Service and Find Steel Building Dealers Near You #