Browse all articles for: Roofing
Roof Sealant Price Guide: How Much to Expect
Last Updated: January 06, 2023
Summary: Roof Coating Prices #
Expect to pay around $1,000 to have your roof sealed, however prices can range between $400 and $2,000. This comes out to $.075 to $5.00 per square foot.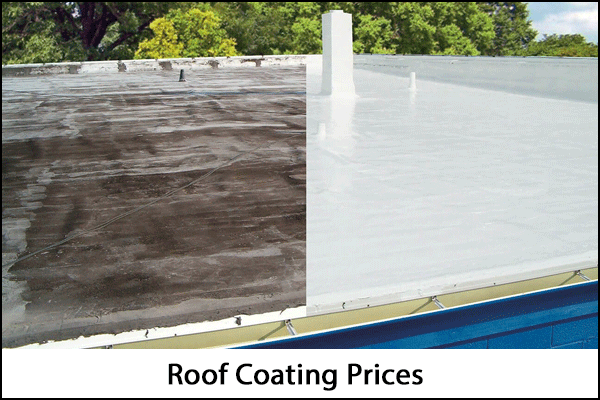 Roof sealant, an aftermarket product that is either painted or sprayed on, improves your roof's appearance and performance. To learn more about the different types of roofing sealants, their benefits, and how much they cost, continue reading.
Choosing a Roof Sealant #
Roofing sealant is commonly applied to flat roofs in order to provide an extra barrier against standing water, but it can be applied to a sloped roof as well. Elastomeric roof sealants, which go on liquid but dry to a plastic/rubber state, are popular, but there are also asphaltic coatings, tar-based coatings, and other types of sealants made specifically for different types of roofing materials, including metal. Elastomeric sealants are often white to reflect sunlight and dissipate heat, but are available in clear formulas as well. Different types of roofing sealants deliver varying levels of performance. In general, however, homeowners choose to apply a roof coating for one or more of the following reasons:
Reflect Heat and Humidity: Reflective root sealants, usually white in color, are designed to reflect the rays of the sun. They can significantly lower cooling costs.
Waterproofing: If your roof has leaks in it or you're merely looking to prevent leaking, roofing sealant creates a waterproof barrier that keeps out rain and melting snow.
Flame Resistance: Many roof coatings help protect your home against devastating fires.
Corrosion Resistance: If you have a metal roof, a sealant can prevent it from rusting prematurely.
Inhibit Moss and Algae: The growth of algae and mold can undermine the integrity of your roof and lead to costly roof repairs. Keep them in check with a roof coating.
Whether your goal is to protect your home from moisture, fire, growths, the sun, or other harmful elements, applying a sealant is an excellent way to bolster the performance of your roof. This can result in significant savings in future maintenance and energy bills, and may even qualify you for a federal tax credit. Plus, sealant can improve a roof's appearance and help you fetch top dollar for your home if you intend to put it on the market.
Roof Sealant Average Costs #
The actual cost of roof sealant depends on the product used, the local economy, the complexity of the installation (i.e. home height and roof pitch), and other factors. The following prices are only meant to provide a general estimate of roofing sealant costs.
Professional application of roofing sealant costs approximately $1,000 to $2,500.
One gallon of roof sealant might cost $15 to $30 per gallon, with one gallon covering anywhere from 100 to 150 square feet. On a 1,500 square foot roof, that's a total material cost of around $250 to $300. Labor costs might be as much as 50 cents per square foot ($750). They include not only the application of the sealant, but also roof preparation (washing it and clearing debris).
Average Roof Sealant Installation Prices By Location: #
| City or State | Zip Code | Average Price Paid |
| --- | --- | --- |
| Massachusetts | Statewide | $419 |
| Charlotte, NC | 28269 | $1,239 |
| Los Angeles, CA | 90001 | $3,195 |
| New York City | 10001 | $1,329 |
| Philadelphia, PA | 19019 | $887 |
| Chicago, IL | 60629 | $1,930 |
| Houston, TX | 77084 | $829 |
Video: Roof Sealant: Best Roof Sealant Reviews 2022 #
Watch the video below to review the best roof sealant products on the market right now:
Resources:
Use Our Free Service and Find Roof Sealant Companies Near You #