Browse all articles for: Roofing
A Flat Roof Replacement Guide: Pricing, Repairs and Types of Flat Roofs
Last Updated: January 03, 2023
Summary: Flat Roof Replacement Prices #
Expect to pay between $6000 and $7000 or $6 to $10 per square foot on average for flat roof replacement. Flat roof repairs can cost as little as $300 or up as much as $1000 to $2000 depending on the number of leaks needing repair.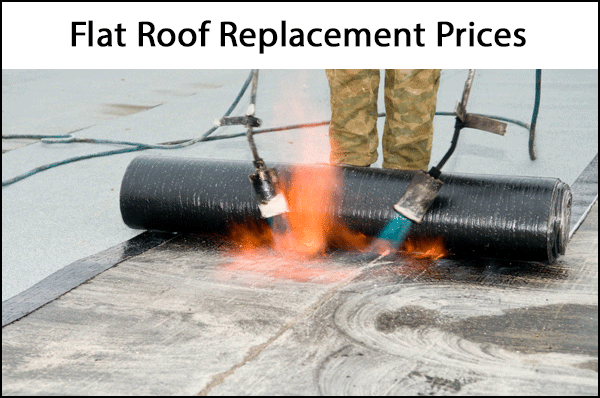 Flat roofs are increasingly popular in modern architecture because of their ability to encompass the long, flat lines of a natural landscape. Flat roofing is not in fact flat, as it contains a slope of approximately 1/8 inch to aid in the drainage of rain and snow. Cheaper to install than a pitched roof, a flat roof is also safer to access and can be used as a place to sit and hang out. To learn more about flat roof solutions, including how much they cost, continue reading.
Average Flat Roof Replacement Prices By Location (Updated for 2023): #
| City or State | Zip Code | Average Price Paid |
| --- | --- | --- |
| Boston, MA | 02115 | $6,855 |
| Miami, FL | 33101 | $8,145 |
| Los Angeles, CA | 90001 | $5,966 |
| New York City | 10001 | $6,319 |
| Phoenix, AZ | 85001 | $5,169 |
| Las Vegas, NV | 88901 | $5,600 |
| Houston, TX | 77084 | $4,682 |
Flat Roof Average Costs #
The actual cost of a flat roof depends on your location, the materials used, the complexity of the installation, and other factors.
Building a flat roof costs approximately $6.00 to $10.00 per square foot. Assuming an average roof size of 1,500 square feet, that's a total cost of $2,250 to $15,000. A commercial building roof averages over 10,000 square feet so expect to pay $60,000 to $10,000 for a complete flat roof replacement.

Asphalt roll roofing costs $4.00 per square foot installed ($3,250-$4,750).

Built up roofing costs $5.00 to $6.50 per square foot installed ($4,750-$8,500).

Single ply rubber/plastic roofing costs $6.50 to $8.00 per square foot installed ($6,500-$8,000).

Spray-on roofing costs $4.50 to $7.00 per square foot installed ($4,250-$9,000).

Standing seam roofing costs $5.00 to $10.00 per square foot installed ($7,500-$10,000).

Removing and disposing of your existing roof might add $1 to $4 per square foot ($1,500 to $6,000) to the total flat roof installation cost.
Video: How to Remove, Repair and Install a Flat Roof #
Watch the video below to see what it takes to install, remove or repair a flat roof:
Types of Flat Roofs #
Among the most popular flat roof types are built up roofing, singly-ply membrane roofs, sprayed polyurethane foam (SPF), asphalt roll roofing, and flat metal roofs. A brief description of these flat roof materials is provided below.
Built Up Roof: A built up roof (BUR) is a layered roofing system that alternates plies of roofing felt, waterproof materials (usually fiberglass), and hot tar (bitumen). While fire resistant and inexpensive, the roofing is messy and smelly to install. It can last up to 30 years.
Singly Ply Roof: Single-ply roofing, in contrast to a built up roof, uses a single layer of material. Lasting up to 30 years, single-ply roofs can be made from a variety of materials. Among the most common are EPDM (ethylene propylene diene monomer, a type of rubber), PVC (polyvinyl chloride, a form of plastic), and thermoplastic polyolefin (TPO, rubber reinforced for extra protection from the elements). Modified bitumen is often used as a wear surface in rubber flat roof construction.
Sprayed Polyurethane Foam: Sprayed polyurethane foam (SPF) roofing is sprayed on as a liquid directly over an existing roof, eliminating the need to remove the old roof. Once the foam dries it is treated with a protective coat for added performance. SPF roofing is lightweight, flexible, and an excellent insulator. It can last 30 years or more, although the protective coating may need to be reapplied every 10-15 years.
Asphalt Roll: The oldest flat roofing type, and one of the most inexpensive, asphalt roll roofing is essentially a flat layer of asphalt shingles. Made from layers of asphalt or fiberglass felts, it can be expected to last around 10 years.
Flat Metal: Made from interlocking panels of steel, aluminum, copper, iron, or other metals, flat metal roofing, also known as standing seam roofing, is lightweight but very durable, often lasting for 25 to 50 years or longer.
Resources:
Use Our Free Service and Find Roofing Companies Near You #