Browse all articles for: Roofing
How Much Does Rubber Roofing Cost?
Last Updated: June 13, 2022
If you've grown frustrated with the constant repairs that your roof requires, it may be time to join the growing number of homeowners who are installing rubber roofing. Whether you have a flat or low-slope roof or a more typical sloped roof, there is a rubber roofing solution that's right for your home. Continue reading to learn more about rubber roofs and rubber roofing costs.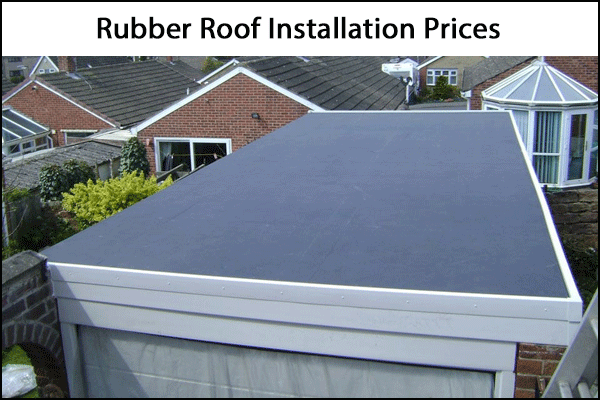 Rubber Roofing Average Costs #
The actual cost of rubber roofing may vary depending on your location, the materials selected, the complexity of the installation, and other factors.
Single-ply rubber roofing (roll roofing) typically costs $3.50 to $5.00 per square foot installed, although high-end materials and/or a tricky installation could bump the price up to as much as $10.00 or more per square foot. For a 1,500 square foot roof, that's an estimated rubber roof cost of $5,500 to $15,000.
Rubber roof shingles cost $4.00 to $8.00 per square foot, ($6,000 to $12,000 for a 1,500 square foot roof).
Although it's possible to install rubber roofing over the existing roof surface, this may void some manufacturers' warrantees. If removing and disposing of the old roof is necessary, this could add $1.00 to $2.00 per square foot to the total rubber roofing cost.
Types of Rubber Roofing #
There are two major types of rubber roofing: whole-roof and shingles.
Whole-Roof: This type of rubber roofing is best suited for flat or low-slope roofing. Sold as a single-ply rubber roof membrane, the seams are heat welded to create a single layer that is virtually impervious to water.
Rubber Shingles: Rubber roofing shingles are an alternative to traditional asphalt, wood, and slate shingles. While they are made to resemble other types of roofing shingles and are installed in much the same way (i.e. nailed or glued down in overlapping rows), rubber shingles provide the increased durability of synthetic materials.
Benefits of Rubber Roofing #
Whether you choose rubber rolls or shingles to cover your roof, it will prove to be an excellent choice for reasons that include the following:
Durability: Roofing rubber is similar to the material that is used to make tires, and is designed to take similar amounts of abuse day in and day out. It is not uncommon for a rubber roof to come with a 25 to 30 year warrantee, and some may last as long as 40 to 50 years. Within that time it should require little or no maintenance as it resists water, hail, wind, fire, impacts, punctures, extreme temperatures, and ultraviolet rays.
Easy to Work With: Rubber roof installation is a relatively simple process compared to traditional roofing materials due to the light weight, flexibility, and malleability of rubber. Equally important is the simplicity of repairing a rubber roof. Much like you'd patch a tire, you can repair a torn or missing piece of rubber roofing. Special tapes and liquid rubber are also quick and easy ways to repair rubber.
Eco Friendly: Most rubber roofing is made from recycled materials such as old tires, plastic bags, and PVC pipe. The rubber roof itself can be recycled as well when it reaches the end of its service life. Add in energy efficiency and low maintenance and you've got one of the most environmentally friendly roofing materials on the market.
Resources:
Use Our Free Service and Find Roofing Companies Near You #