Browse all articles for: Roofing
A Buyer's Guide to PVC Roof Costs and Benefits
Last Updated: November 14, 2023
Single ply roofing membranes are longer-lasting, better-performing alternatives to traditional flat or low sloped built up roofs (BUR) made from tar, asphalt, and roofing felt. One of the best single ply roofing materials, PVC (polyvinyl chloride), is very similar to the vinyl used to make siding, fencing, and other building products. Like them, PVC roofing is a popular choice due to its low-maintenance durability and long-term value. Below you'll find more information about PVC roofs, including how much they cost to install.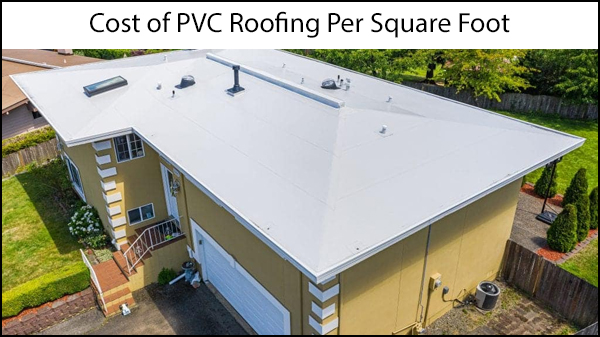 PVC Roofing Average Costs #
PVC roofing costs $4 - $12 per square foot installed. This equals $400 - $1,200 per square (100 sq ft).
PVC roofing materials alone cost $2 - $3 per square foot, or $200 - $300 per square. Professional installation runs $2 - $9 per square foot depending on roof complexity.
Key factors impacting total PVC roof cost:
Roof size - Economies of scale mean larger roofs cost less per sq ft.

Access - Multi-story and difficult access add labor costs.

Pitch - Low slope is simpler. Steep roofs add installation cost.

Preparation work - Any deck repairs, tear-off, insulation add cost.

Flashings/trim - Special flashings for vents, pipes etc have added cost.

Location - Labor rates vary across the country.
For a typical 2000 sq ft residential re-roofing project, expect to pay around $8,000 - $16,000 for PVC roofing installed. Get quotes from contractors to estimate your specific roof cost.
PVC Roofing Real Cost Examples #
I had Sarnafil G410 PVC membrane installed on my flat commercial roof here in Arizona. For the 10,000 sq ft roof, the materials cost was $2.50 per sq ft and installation was $3 per sq ft, so my total was $60,000.
I went with a Duro-Last PVC roof system for my sloped residential roof in Wisconsin. For the 1,500 sq ft project, I paid $2.75 per sq ft for the custom prefab sheets and $2 per sq ft for installation labor. My total cost was around $6,375.
I had IB Roof Systems install a white PVC roof on my condo building in Florida. For the 5,000 sq ft project the membrane material cost was $225 per square. With installation labor my total price came out to $7,000 total or $1.40 per square foot.
For my commercial facility I had Sika Sarnafil install 20,000 sq ft of grey PVC membrane roofing. The PVC sheets were $3.25 per sq ft and install brought it to $5.50 per sq ft installed. Total project cost was $110,000.
An Overview of PVC Roofing Systems #
PVC roofs originated in 1960s Europe, where a long-lasting, cost-effective roofing material was needed for post-War construction efforts. Vinyl roofs today compromise nearly two-thirds of the European single ply roofing commercial roofing market and are capturing an ever-large market share of the U.S. commercial roofing market.
But PVC is certainly suitable for non-commercial roofs as well. The same reasons that make vinyl roofing a top choice for hotels, shopping malls, and office towers also make it a great option for your home. Those reasons include:
Waterproof: The chemical composition of PVC makes it impervious to water. When individual panels are installed, they're heat welded to form a single, waterproof membrane that's meant to withstand even pooling water.
Long-Lasting: Compared to built up roofs and other types of single ply roof materials, which usually have to be replaced after ten or fifteen years, PVC is expected to last twenty to thirty years with little or no maintenance.
Tough: There's pretty much no type of abuse that a PVC roofing system can't handle. It resists impacts, punctures, winds, precipitation, and fire, provides an excellent barrier against chemicals and other harmful substances, and can offer up to 80% solar reflectivity.
Low Lifecycle Cost: While the initial cost of installing a PVC roof may be more than another type of flat roof, PVC roofing membrane is one of the least costly in the long run. That's because it has a long service life and can help to slash your cooling costs by reducing the amount of heat your home absorbs.
Options: Many homeowners choose a white vinyl roof due to its reflective properties, but PVC roofing is additionally available in black, tan, grey, cream, and other colors. It can even be manufactured in a pattern that resembles traditional shingles from afar. You can also choose a PVC roof in a number of different thicknesses, providing you with more protection if you need it. And when it comes to installation, choose from a membrane that is mechanically fastened, fully adhered, or ballasted.
Video: PVC Membrane Roofing Installation in 5 Minutes #
Watch the video below to see a time-lapse of a PVC membrane installation on a flat patio roof:
Resources:
Use Our Free Service and Find Roofing Companies Near You #