Browse all articles for: Steel Buildings
How Much Does a Steel Pole Barn Cost?
Last Updated: June 01, 2023
CostOwl.com note: Need a steel building at an affordable price? Fill out the 30 second questionnaire below and our steel building partners will send you free price quotes.
Summary: Steel Pole Barn Kit Price Per Foot #
A standard steel pole barn kit will cost between $30 and $50 per square foot.
Pole barns are simple structures made from wood, metal, or some combination of the two. While used primarily in agriculture, post frame construction can also work well to build garages, workshops, storage spaces for anything from vehicles to produce, and even pole barn homes. Inexpensive and quick to construct, some pole barns don't even require a poured concrete foundation—or walls. Whether you're looking for a simple shelter or one with significant add-ons, this buying guide can help you find the right pole barn and understand how much it will cost.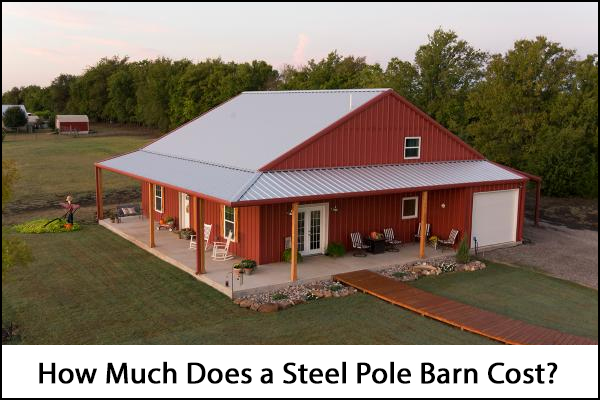 The Basics of Buying a Pole Barn #
If you're thinking of building a pole barn, it's important to be able to sift through the many options available. To find a pole barn that meets the needs of your business, ask yourself the following:
What will it be used for? In order to determine the size of the pole barn you'll need and what features it requires, you must decide what the structure will be used for. For example, if you plan on using the facility as a workshop or to store sensitive materials, the pole barn construction should probably include insulation. You will also want to take into consideration how many doors, windows, and skylights you want the pole barn to have.

How will it be built? There are three major choices when it comes to pole barn design. One option is pole barn kits that include materials (typically posts/framing and walls, but not a floor), which many manufacturers will install. You could also order the materials and hire a carpenter for installation. Another option is to build a do-it-yourself pole barn (you buy the materials and put it up yourself). Salvaged or inexpensive materials make the project even cheaper. Whichever construction method you use, be sure to share your pole barn plans with local city officials to find out whether any relevant zoning and other regulations must be met.

What will it be built from? Pole barns can be constructed entirely from wood or entirely from metal, while another popular option is wood walls over a steel frame. Although material prices and the local cost of labor can vary, the overall cost to build metal pole barns versus wooden pole barns is generally comparable. If you live in an area with extreme weather (i.e. floods, fire, flooding, earthquakes, etc.), durable steel pole barns may be a better choice, although this will additionally require that you pour a concrete slab. Wooden pole barns, on the other hand, do not require a foundation, as the poles can be set directly into the ground.
Pole Barn Average Costs - Samples #
The huge range of factors that goes into pricing a pole barn, in addition to material, labor, and individual supplier costs, means that it can be difficult to put an exact number on pole barn costs. The following pole barn pricing is therefore only meant to be a rough overview.
For simple pole barn packages you might pay approximately:

$4,000 to $6,000 for a 24 x 32 x 10 kit with (1) sliding door and (1) entry door.

$8,000 to $10,000 for a 30 x 64 x 12 kit with (1) sliding door and (1) entry door.

$14,000 to $16,000 for a 40 x 80 x 14 kit with (1) split sliding door and (1) entry door.

More sophisticated pole barn kits cost around:

$30,000 to $40,000 for a 1,500 square foot barn with a porch and loft or comparably sized pole barn houses (cottage style).

$50,000 to $60,000 for a 2,500 square foot RV garage barn with a loft and porch.

$80,000 to $100,000 for a 5,000 square foot structure with a loft and multiple porches.

Buying a pole barn from a manufacturer and having it installed costs roughly:

$6,000 to $10,000 for a 16 x 24 economy unit

$8,000 to $12,000 for a 24 x 24 garage-style barn

$15,000 to $25,000 for a 40 x 60 storage facility

$25,000 to $30,000 for a 36 x 48 barn

The following costs are associated with a do-it-yourself pole barn:

Materials might run you around $5 to $15 per square foot.

Pouring a concrete foundation costs approximately $5 to $10 per square foot.

Labor costs could be around $5 to $10 per square foot.

Adding insulation costs around $1 to $3 per square foot.
Watch: Full Cost Breakdown of a 80 x 60 Pole Barn #
Watch this video to see an example of a steel pole barn being quickly installed.
Resources:
Use Our Free Service and Find Pole Barn Dealers Near You #