Browse all articles for: Steel Buildings
How Much Does an RV Garage Steel Building Cost?
Last Updated: June 01, 2023
CostOwl.com note: Need a steel building at an affordable price? Fill out the 30 second questionnaire below and our steel building partners will send you free price quotes.
Quick Summary: RV Storage Garage Prices #
An RV storage garage will cost as little as $7 per square foot for a quonset hut type to has high as $25 per square foot for a rigid frame type building.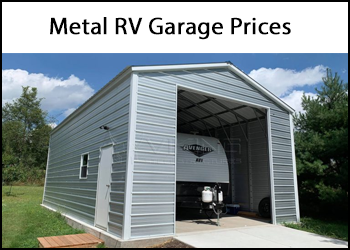 An RV is a significant investment and one that you want to keep in the best possible condition. Whether you're looking to protect it from the elements or live in an area that doesn't allow you to park it on the street, a steel garage for your RV is an excellent solution.
Benefits of a Steel RV Garage #
A steel RV garage offers a variety of benefits. For one, construction is simpler and moves faster, saving you money on labor costs. Steel buildings also produce far less material waste than other building materials and methods. Other benefits include:
Choices: With a steel RV garage, you have plenty of options. DIY kits are available that allow you to set the whole thing up for yourself. If you prefer to let a professional to handle it, you can choose between pre-engineered structures or customize your own to fit your exact needs. It is important to note that, if you plan on going the DIY route, it is best to have some help with unloading and erecting the structure.
Durability: Steel buildings are more durable than other, more traditional building materials. They stand up to even the most severe of weather conditions, easily handling hail, high winds, rain, and snow.
Flexibility: A steel building is more than just a metal box. Finish your steel RV garage with brick, siding, stucco, or other common finishing materials to match the look of your home, or just to give it a more pleasing aesthetic.
Determining the Right Size for Your Steel RV Garage #
With any garage, a general rule of thumb is that bigger is better. This can be a difficult rule to follow if you're working with a limited amount of space, but the first step is determining exactly how big your RV is, including height, length, and width.
Class A motorhomes have an average height of 10 feet, with lengths averaging between 21 and 40 feet. For an RV of this size, you'll need a garage with a ceiling at least 14 feet high and between 45 and 50 feet long. A Class B camper van has an average height of 8 feet, with lengths averaging between 16 and 21 feet. This RV would require a steel garage at least 12 feet high and between 25 and 30 feet in length.
Most RVs range in width between 8 and 8.5 feet, requiring a garage at least 10 feet in width to be able to comfortably move around the RV in the garage. However, you need to consider more than just the base width of the vehicle. Think about the width of the RV with its doors out or any slide-outs extended to be sure you have the proper space in your steel RV garage.
How Much Do Steel RV Garages Cost? #
It is difficult to provide an exact cost for steel RV garages, as the garage style and size, your location, any finishings or customizations, and the supplier you purchase through all affect the final price. That being said, the following is a general pricing guide to give you an idea of what you can expect to pay for your steel RV garage:
A DIY steel garage kit has an average cost of $15 per square foot.
A 20' x 25' x 14' steel garage DIY kit has an average cost of $7,250.
A 20' x 30' x 14' steel garage DIY kit has an average cost of $8,700.
A 20' x 45' x 14' steel garage DIY kit has an average cost of $13,100.
A Quonset hut steel garage has an average cost between $7 and $15 per square foot.
A rigid frame steel garage has an average cost between $10 and $25 per square foot.
Additional Considerations #
Price and sizing are incredibly important factors when looking at steel RV garages, but there are other things to consider.
First, the location of the garage is incredibly important, as you want to make sure the site can properly drain. Any standing water may damage both the building components and the foundation itself.
Don't forget to think about the future, either. As stated above, bigger is better, so the best thing to do is build the biggest steel garage you have the space for. You'll thank yourself later for the extra storage space or if you upgrade to a larger RV. While it is true that metal buildings are easy to expand upon, it is always easier to build it bigger first.
Watch: Site Prep for Metal Building RV Storage Shed #
Watch this video to see an example of how a metal RV building is constructed.
Resources:
Use Our Free Service and Find Steel Building Dealers Near You #