Browse all articles for: Mailing Equipment
USPS Postage Meter Cost Guide: Find the Right Price for Your Business
Last Updated: May 05, 2023
CostOwl.com note: Need a postage meter at an affordable price? Fill out the 30 second questionnaire below and our USPS postage meter partners will send you free price quotes.
Summary: Postage Meter Prices #
On average, basic postage meter rental rates start between $20 and $30 per month. These monthly rates will increase depending on the postage meter features desired such as scale size and speed and can go as high as $500 to $1000 a month.
What is a Postage Meter? #
Simply put, a postage meter is a piece of mail equipment that quickly and easily prints and charges postage. A postage meter is a vital component of a mailing system. Using a postage meter is something that will makes the process of mailing infinitely faster and easier. If you send out a lot of mail then you already know what I'm talking about. If you're spending $50 per month then, maybe, it's time you considered putting one of these time and money savers into use.
Three components to a Postage Meter:
There are only four USPS approved postage meter companies that are authorized to lease or rent postage meters.
Pitney Bowes
Quadient (Formerly Neopost/Hasler)
Datapac
FP
Can I Buy a Postage Meter? #
No. You cannot buy a postage meter machine. Federal law prohibits the private sale of postage meters, and there are, only, a handful of USPS (United Stage Postal Service) approved vendors. They can be leased or rented. Postage is looked upon as currency by the US government. Therefore, they tightly regulate these machines.
What Functions Does a Postage Meter Provide? #
Convenient, easy way to print postage for all mail services except periodicals
First-Class Mail- Standard USPS service
Priority Mail - Fast and affordable service that averages 2-3 days for delivery.
Express Mail - Overnight delivery to most locations.
Package Services - A variety of ways to ship packages.
International Mail - Global delivery services
Presorted First - Class Mail Services
Bulk mailings - these do require a permit and special markings that can be applied with your Meter stamp.
Benefits of Postage Meters #
Save Money - This is the most important benefit for most businesses. If your typical postal expenses include more than $40 or $50 per month, you're a good candidate for upgrading to a postage meter. Also consider that you will save gas money and valuable time, with fewer trips to the post office. This also translates to increased productivity.
Determine Exact Postage Costs - Rather than approximating correct postage, a postage meter can deliver money saving accuracy. Particularly in environments with high-volume mailing, accuracy in postage costs results in noticeable savings.
Save Time - Postage meters enable your business to spend only a fraction of the time typically required for mail processing. Time saved is money in the bank.
Better Expense Tracking - Many postage meters allow you to set up accounting codes that help you track who's using your meter and for what.
Postage Meter Savings #
When you use a postage meter, you save 5 percent on your postage costs ($0.03 per envelope). The United States Post Office (USPS) values business mail and actively wants businesses to use postage meters, so they provide an automatic discount. Postage meters also help to save on costs by ensuring accurate postage and weighing of all mailpieces.
Postage meters give you a way to see exactly what you spend each month on your mailings. You can even break down postal costs by department, giving you a better idea of how much is being sent, by whom, and how often. If your business sends out large volumes of bulk mail, bulk mail permits are available from USPS and offer further savings on mail costs.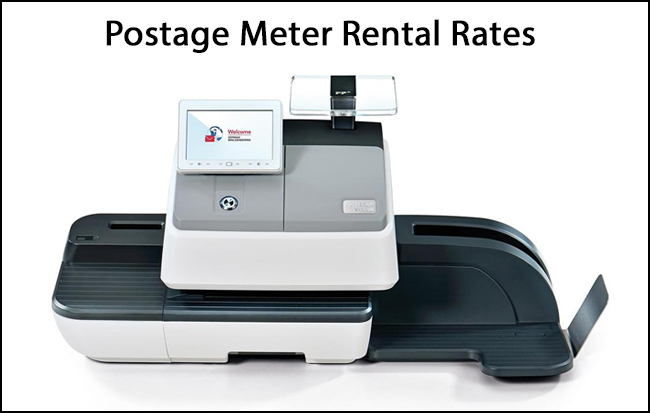 Postage Meter Lease Costs / Postage Meter Rental Costs #
A postage meter can be leased for an averages cost of $25 to $60 per month. That is the cost for the average sized postage scale, 30 pounds or less. Meters with larger scales will be pricier. After you lease a unit, your monthly costs will be determined by the weight you ship, the distance you need to ship it, and the speed of which you need it shipped (ground, air, next day, etc.)
Remember that the cost of postage is not included in lease costs. The cost of postage is dictated by the United States postal service. Find information on current postage rates at www.usps.gov
Watch: Postage Meter Rentals - A Cost Breakdown #
Watch this video to get a cost breakdown of a postage meter lease.
Resources:
Use Our Free Service and Find Postage Meter Dealers #