Browse all articles for: Sunrooms
Solarium Addition Prices, Considerations and ROI for Your Home
Last Updated: January 26, 2022
Solariums and sunrooms are both enclosed structures that adjoin a home and allow its residents to comfortably enjoy the outdoors.
But, solarium and sunroom are not interchangeable terms.
Sunroom is more of a catchall name for a room with large windows that lets in plenty of sunshine and provides shelter from the elements.
A solarium, on the other hand, with a glass roof and walls, more closely resembles a greenhouse and is specifically designed to capture sunlight.
In this buying guide you'll learn more about solariums, including how much a solarium costs.
How Much Does a Solarium Sunroom Addition Cost? #
Solarium Frame
Aluminum frame - $15-30 per sq ft
Wood frame - $30-60 per sq ft
Glass Panels
Single pane - $10-15 per sq ft
Double pane - $15-25 per sq ft
Low-E coatings - $2-5 per sq ft extra
Other Materials
Roofing - $5-10 per sq ft
Flooring - $5-15 per sq ft
Electrical and lighting - $5-10 per sq ft
Labor
Installation - $15-25 per sq ft
Finishing - $5-10 per sq ft
Total Cost
Small solarium (100 sq ft) - $15,000-30,000
Medium solarium (200 sq ft) - $25,000-50,000
Large solarium (300+ sq ft) - $40,000-80,000+
Key Factors
Type of framing and glass used
Overall size
Customization and accessories
Local construction costs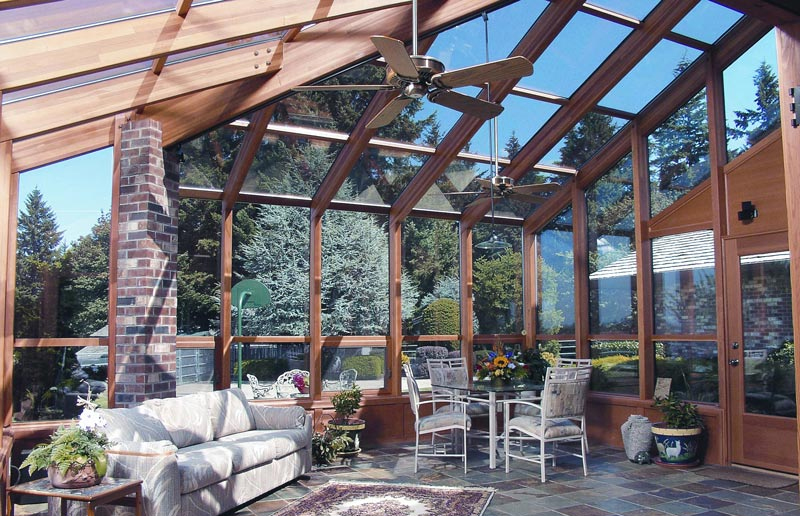 In summary, expect to pay $25,000 to $60,000+ for a professionally installed solarium sunroom addition depending on the size, materials, and features.
Luxury solariums with hardwood framing and extensive customization can cost over $100,000.
Below is a graph of the average cost of a solarium by square feet.
Real-Life Solarium Addition Cost Examples #
Here are several real-world examples of solarium sunroom addition costs:
Small Vinyl Solarium
10' x 12' size
Vinyl framing and polycarbonate panels
Installed for $16,500
Medium Aluminum and Glass Solarium
14' x 20' size
Aluminum frame with insulated glass panels
Skylights and ceiling fan included
Total cost $38,000
Large Custom Wood Solarium
600 sq ft solarium
Cedar wood framing and low-E glass
Curved glass roof, stone flooring
Built-in seating and appliances
Total price $98,000
Condo Solarium Kit
150 sq ft polyethylene kit
Self-installed by condo owner
Total project cost $19,500
Renovated Patio Solarium
Converted existing patio into solarium
Used existing roof and foundation
Added glass walls and heat/AC
Total renovation price $22,000
As you can see, solarium addition costs can vary greatly based on size, materials, custom features and DIY vs professional installation.
But, expect most medium-sized solariums with glass walls to run $25,000 - $50,000 on average.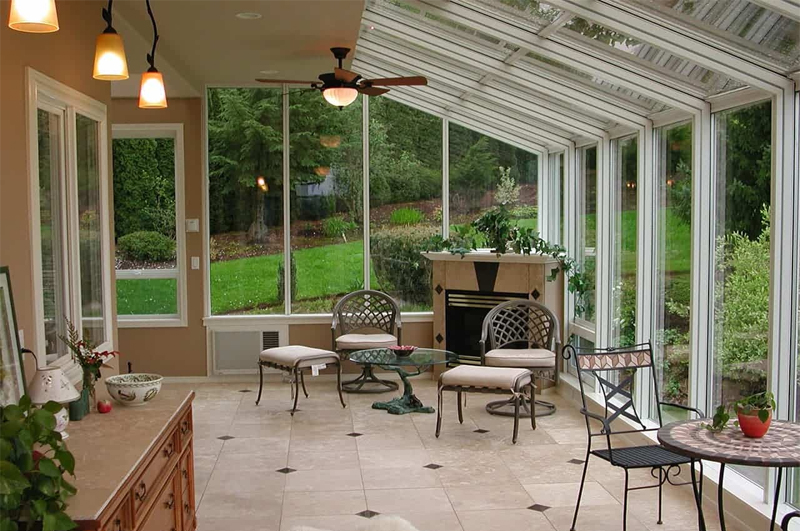 Benefits of Installing a Solarium #
A solarium, which takes its name from the Latin word for "sun (sol)," is a literal and figurative bright spot in any home.
Better Enjoy the Seasons: No matter what season it is, a solarium will help you maximize its pleasures and minimize its discomforts. From your new glass solarium you can soak up the sun during the cold months and combat the sluggishness associated with seasonal affective disorder (SAD). In the summertime, work on your tan without being bothered by mosquitoes and biting flies.
Garden of Eden: Solariums allow gardening during all four seasons and can add a natural look to your home with the addition of plants and flowers.
Valuable Addition: Even a relatively small solarium drastically changes the dynamic of a home's dimensions by making it appear and feel more open. For your family and guests, this means a much more pleasant living space. And if you ever decide to sell, you should be able to recoup 90 to 100 percent of the solarium price.
Things to Consider when Building a Solarium #
The major elements of solarium design can be mixed and matched to create a structure that's unique to your home and tastes.
Type of Glass: At the low end of the spectrum there's single pane glass, which may not be appropriate for four seasons. Moving up in price and performance is double and triple paned glass, while Low-E and argon-filled glass are superior temperature regulators.
Flooring: Tile and stone floors are popular in solariums, but you could also opt for hardwood floors or imitation wood.
Exposure: Where you place your sunroom depends on where you live and your intended use for the space. A southern exposure, for example, maximizes sunlight and is good for northern homes, while in the south, a northern exposure that provides more shade might be preferable.
Roof style: A basic solarium roof is curved, straight, or slanted; cathedral and gable styles add a touch of elegance.
Climate control: Glass is a major determinant of how well a solarium regulates temperature. Other options to consider include heating, air conditioning, ceiling fans, and shades and blinds.
Video: Building a Solarium to Grow Food #
Watch the video below to watch a demo of a start to finish solarium project:
Sources:
Use Our Free Service and Compare Solarium Companies Near You #