Browse all articles for: Roofing
How Much Do Timberline Roof Shingles Cost?
Last Updated: January 06, 2023
GAF has been in business for more than 125 years and is the largest manufacturer of commercial and residential roofing in North America. The company offers three distinct lines of roofing shingles, including Timberline shingles, the top-selling shingle in North America. This buying guide provides valuable information about GAF roof shingles in addition to pricing information that will help you plan your roofing project.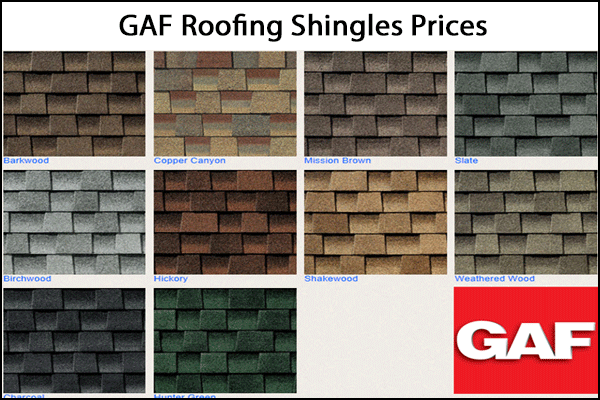 GAF Roofing Shingles Average Costs #
The prices described below may vary based on your location, the difficulty of the installation, and other factors. For the most accurate GAF roofing shingle prices, fill out this form to receive estimates from multiple, prescreened contractors in your area.
GAF 3-Tab shingles cost approximately $2.50 to $3 per square foot installed (or $2,500 to $6,000 for an average-sized 2,000 square foot roof).
GAF Timberline roofing shingles cost around $3 to $5 per square foot installed ($6,000 to $10,000).
GAF Designer shingles cost roughly $4 to $6 per square foot installed ($8,000 to $12,000).
If new roofing shingles cannot be installed over the old ones and need to be removed and disposed of, this might add an additional $1 to $4 per square foot to the total cost.
Reasons to Buy GAF Roofing Shingles #
It's no coincidence that GAF shingles are among the best-rated and best-selling in the U.S. The many reasons why builders and customers prefer GAF roofing shingles include:
Award-winning quality: The impressive resume of GAF shingles includes a Builder's Choice Award, the 2011 Innovation Award, the Architects Choice for Excellence Award, and a #1 rating in quality and innovation by multiple studies.
Peace of mind: Offering industry-leading warranties and a factory certified contractor network with more than 4,000 members, you can be confident in your purchase of GAF shingles knowing they will be installed by experts and backed by North American's largest roofing manufacturer.
Green technology: GAF is dedicated to using recycled materials, incorporating sustainable manufacturing processes, and utilizing the latest technologies to make sure its products have a minimal environmental footprint. This is good news for the planet and for your wallet, as energy efficient GAF roof shingles can help slash energy bills and could even qualify you for a tax credit.
Video: GAF Timberline HDZ review #
Watch the video below to review the pros and cons of GAF Timberline HDZ shingle:
Types of GAF Roofing Shingles #
The three lines of GAF shingles are described below.
3-Tab Shingles: GAF 3-Tab shingles provide affordable quality for homeowners who have a limited budget but don't want limited performance. Available in a wide range of colors, these shingles can withstand winds up to 150 mph, have a Class A fire rating and come with a 30-year limited transferable warranty.
Timberline Roof Shingles: GAF Timberline roof shingles are the #1 selling shingles in North America. Combining beauty and brawn, this diverse shingle line is protected by a lifetime warranty, comes in a number of attractive colors and styles (including natural wood shake), and can help you save money on energy and insurance.
Designer Shingles: Get the look of tile, wood and slate at a fraction of the cost with designer shingles from GAF. With their distinct styling GAF designer shingles will not only make your home the envy of the neighborhood, but provide exceptional durability and are backed by a lifetime warranty.
Resources:
Use Our Free Service and Find Roofing Companies Near You #