Browse all articles for: Roofing
How Much Does a Natural or Synthetic Slate Roof Cost?
Last Updated: June 14, 2022
Summary: Slate Roof Cost #
Expect to pay between $13,000 and $16,000 for a synthetic slate roof. A natural slate roof can cost almost double that of a "fake" slate roof and will cost you $25,000 to $35,000 or more. Your existing roof frame may need reinforcement to support the weight of dense slate which will cost an additional $2,000 to $12,000.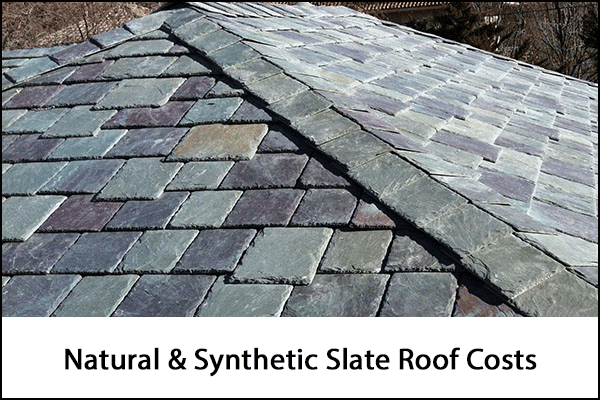 When it comes to roofing options, you simply cannot find a material that offers the beauty and durability of slate. A slate roof, when properly installed and maintained, can easily last a century or more, and with its classy appearance it will never go out of style. The high cost of slate roofing is a serious drawback for some customers, but the enormous upside of slate makes it worthy of consideration.
Average Slate Roofing Prices By Location #
| City or State | Zip Code | Average Price Paid |
| --- | --- | --- |
| Spokane, WA | 99205 | $16,000 |
| Worcester, MA | 01604 | $13,000 |
| Syracuse, NY | 13210 | $22,100 |
| Albany, NY | 12208 | $18,543 |
| Philadelphia, PA | 19019 | $8,620 |
| Boise, ID | 83709 | $16,800 |
| Grand Rapids, MI | 49504 | $19,411 |
Types of Slate Roofing #
The classic style and durability of natural slate makes it the gold standard for roofing materials, but synthetic slate offers a more affordable alternative. What follows is a brief rundown on natural and synthetic slate.
Natural Slate Roofing #
Slate has been used for roofing since the 13th century in Europe and can be traced back to colonial times in the United States. The origins of slate itself, however, which formed from mineral deposits that were subjected to extreme heat and pressure, precedes the days of humans by approximately one-half billion years. Slate is perhaps best known as being gray in color, although it naturally occurs in a number of hues, including gray, green, blue, black, purple, red, and mottled.
Synthetic Slate Roofing #
Synthetic slate shingles were not formed by Earthly processes, but rather by chemists in a laboratory. They are primarily constructed of engineered polymers and some are made from recycled plastic and rubber. While it may not be the real thing, it's virtually impossible to tell the difference between a synthetic slate roof and a natural slate roof from the ground. Synthetic roofing slate is also lightweight, making it a good option for homes that can't support the heavy weight of slate. The use of synthetic slate also protects means reduced harvesting of the earth.
Video: Real Slate Roof vs Synthetic Slate Roofing Shingles Comparison #
Watch the video below to learn which is better:
The Benefits of Slate Roofing #
Slate roofs have a number of advantages over other roofing materials, including:
Aesthetics: Using the same roofing material that appears on castles, cathedrals, and other historic buildings gives your home a timeless beauty. And because slate roof tiles are available in a wide variety of colors, thicknesses, and sizes, it's possible to further distinguish your property.
Durability: Slate can easily last for 100 years, and depending on the variety of the stone, a 150 or even 200 year lifespan is not unheard of. Furthermore, slate won't burn or corrode and requires very little maintenance.
Less Waste: A natural slate roof that lasts 100 or more years has a positive environmental impact when compared to roofing materials such as asphalt shingles that are discarded and replaced every 20 to 30 years, creating huge amounts of waste.
Slate Roof Costs #
Although slate is generally a high-cost material, significant price discrepancies exist based on the type of slate used. Slate roof installation cost also can vary considerably based on the complexity of the installation (including such factors as the building height and roof pitch), local labor costs, and other variables.
The cost of a slate roof can be anywhere from around $12 to $40 per square foot installed and as much as $75 per square foot or more. For a 1,500 square foot roof, that works out to approximately $15,000 to $112,500.
Synthetic roofing slate costs roughly $6 to $12 per square foot installed. The total cost for a 1,500 square foot rough might be $9,000 to $18,000.
Some homes may not be able to support a heavy slate roof without structural reinforcement. The cost of additional framework could cost roughly $2,000 to $12,000 or more.
Resources:
Use Our Free Service and Find Roofing Companies Near You #