Browse all articles for: Roofing
How Much Does a KEE PVC Roof Cost?
Last Updated: June 13, 2022
Summary: Kee Roofing Cost #
Expect to pay between $1.50 and $8.00 per square foot for DuPont KEE roofing.
Single-ply roofing systems made with ketone ethylene ester (KEE), better known by its trade name, DuPont Elvaloy KEE, are superior to traditional PVC roofing membranes. In this buying guide you'll learn what the benefits of KEE roofing are and how much it costs to install this type of roof.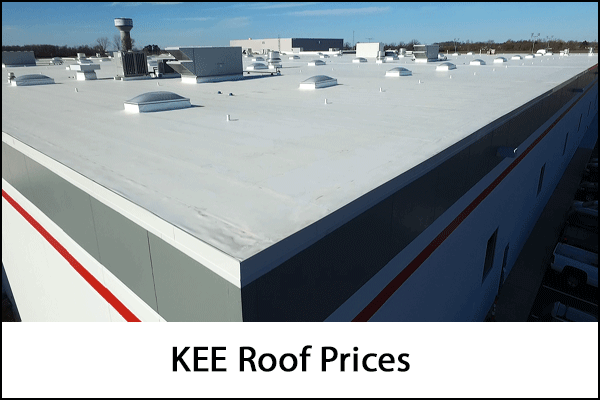 An Overview of KEE Roofs #
When one talks about a "KEE roof," typically what they mean is a single ply roofing system that's been strengthened by ketone ethylene ester. DuPont KEE is made in pellet form and often mixed with a more rigid substance such as polyvinyl chloride (PVC) to provide it with greater durability and flexibility. But because it is a thermoplastic material, KEE has the characteristics thermoplastics are known for, including convenient melting properties for thermoplastic processing, lightweight strength, impact resistance, flame resistance, and resistance to extreme temperatures.
Compared to traditional thermoplastic roof coating, however, a KEE roofing membrane offers the following advantages:
Simple to Install and Repair: Installing KEE roofing involves the use of a simple hot air bonding technique that creates a seamless molecular bond between individual KEE membrane sheets. This provides for not only extremely simple (and cost-saving) installation, but also makes repairs a snap, as the patch is bonded to the rest of the membrane.
Chemical Resistance: While thermoplastics are known for their chemical resistance, KEE single ply roof provides exceptional resistance to pollutants such as grease and fuels. When exposed to such substances, KEE roofing shouldn't lose its flexibility and become brittle.
Seam Strength: Singly ply roofing made with KEE has strong, heat-welded seams that provide superior protection from water and other weather events.
Low Cost of Ownership: A DuPont Elvaloy KEE roof offers homeowners with long service, easy installation and upkeep, and low lifetime ownership costs. And with an available white roofing solution, you can slash your home's energy costs as more heat and light are reflected. It may even be possible to install KEE singly ply roofing over the existing roofing material, which can result in significant savings.
KEE Roof Average Costs #
Due to the fact that DuPont KEE is added to roofing membranes that are made by individual manufacturers, prices can vary significantly. Other factors that affect the cost of KEE roofing is your location and the complexity of the job (i.e. roof slope and home height).
KEE roofing costs might start at $1.50 to $3.00 per square foot and be as much as $4.00 to $8.00 or more per square foot. Assuming an average-sized roof of 1,500 square feet, that's a low-end estimate of $3,000 to $4,500 and a high-end estimate of $8,000 to $12,000.
Removing and disposing of the existing roof, if necessary, could cost an additional $1 to $3 per square foot ($1,500 to $4,500).
Resources:
Use Our Free Service and Find Roofing Companies Near You #