Browse all articles for: Roofing
What is Galvalume and How Much Does a Galvalume Metal Roof Cost?
Last Updated: May 24, 2022
Smoother and finer grained than galvanized steel, galvalume is made of steel coil coated with metal alloy. The material was developed in 1972 by Bethlehem Steel and offers enhanced durability.
What Is Galvalume Steel? #
Galvalume is steel coated with metal alloy that is comprised of 55 percent aluminum and 45 percent zinc, with a small amount of silicone added to the material. The coating acts as corrosion protection and the silicon gives the galvalume more durability during the manufacturing process.
The big difference between galvanized steel and galvalume is that galvalume offers barrier protection and does not self-protect against cut edges and scratches as well as galvanized steel. It is also more susceptible to "tension bend staining," which is when the forming process stretches the coating into thin areas, which can lead to microscopic cracks. This is why galvalume is most commonly used in simpler setups that do not require as much bending in the metal, such as standing seam.
Galvalume is able to be installed painted or unpainted, depending on your preference. Unpainted galvalume is typically used in commercial applications or by those seeking a sleek, metallic appearance. But, just like galvanized steel, most galvalume is painted for aesthetic purposes and increased durability.
How Much Do Galvalume Roofs Cost? #
Providing an exact cost for a galvalume roof is difficult; pricing depends on the gauge of material you choose, seller you purchase from, and the complexity of the installation. What follows is a general pricing guide to give you an idea of what you can expect to pay for your galvalume roof.
A 29-gauge, 16' x 3' section of galvalume that comes with a 25-year warranty has an average cost of $70 per square.
Higher grades of galvalume, which can mean they have a decorative coating, longer warranty, or thicker gauge, have an average cost between $200 and $700 per square.
The average cost of installing a galvalume roof is between $50 and $70 an hour, though some installers charge an average of $300 per square (which includes material costs).
Note that these costs do not include any repairs that may need to be done to your roof. It is also important that you ensure whoever installs your galvalume roof is experienced and qualified, as it requires accuracy and precisions to maintain your warranty and avoid wasting materials.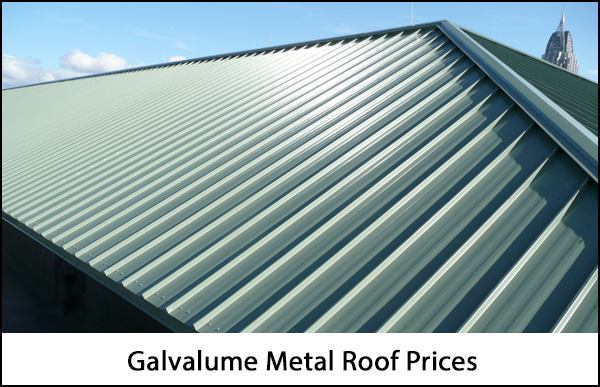 Appeal of Galvalume Steel #
Galvalume is increasing in popularity as a roofing material due to its appearance and versatility. It is available in a wide variety of colors and designs, allowing you to find the perfect fit for your home. If you are looking at galvalume in part for its metallic appearance, the material is available unpainted, as well. Whether you are looking to use galvalume in commercial or residential applications, the material is a durable roofing solution that stands out from the crowd.
If you are looking for the protective aspects of galvalume, but aren't a fan of its appearance, it can be made to look like other materials, such as asphalt, clay, slate, and wood. It should be noted that galvalume should not be used in areas where it will be in contact with concrete or mortar (the materials are highly alkaline and cause rapid corrosion) or in animal confinement operations (the gasses emitted are also corrosive).
Video: Galvanized Steel vs Galvalume Steel #
Watch the video below to review the differences between Galvanized Steel and Galvalume Steel:
Advantages and Disadvantages of a Galvalume Steel Roof #
As with any other roofing material, there are advantages and disadvantages to galvalume.
Advantages
Galvalume offers a host of advantages, the biggest of which is longevity. The material's coating is highly resistant to corrosion, lasting between 50 and 75 years. It also offers fire resistance, reflective properties, and low maintenance. It is entirely recyclable and lightweight, as well as incredibly energy efficient. Another big perk to galvalume is that it can be installed over existing roofing with little to no issues.
Disadvantages
While galvalume offers plenty of benefits, there are some disadvantages to the material. For one, it is much more expensive than other roofing materials, costing twice as much as a standard shingled roof. And though it is highly durable, it is susceptible to tension bend staining and rusting in cuts and scratches. Galvalume also needs to be installed by specially trained professionals, as it has different requirements than any other roofing material.
Resources:
Use Our Free Service and Find Roofing Companies Near You #