Browse all articles for: Landscaping
Swimming Pool Opening Service Cost: Average Prices, DIY Options, and Benefits - 2023 Guide
Last Updated: June 01, 2023
Summary: Swimming Pool Opening Service Cost #
Most pool opening services charge around $200 in total to open your pool in the summer, however you could pay anywhere between $150 and $350 for the job. Hourly rates range between $75 and $100 per hour. A very dirty tool may cost more for the added cleaning and chemical expenses.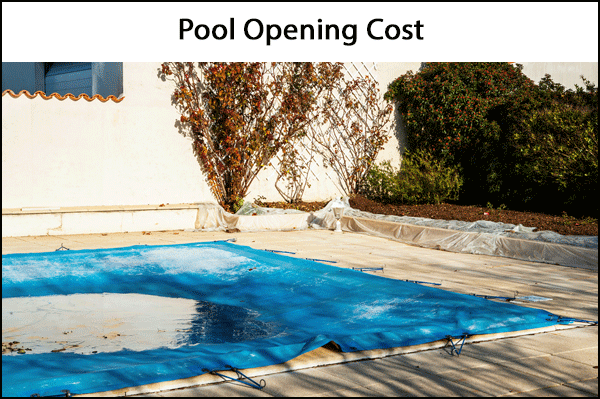 Unless you live in the Sun Belt, you probably closed your pool for the season sometime during the fall. Now that warmer temperatures have arrived and summertime fun is just around the corner, it's time to get the pool ready for swimming. Read on to find out how to open a pool for the summer and how much the service costs.
Opening a Swimming Pool: What's Included? #
Whether you hire a pro to open your pool or choose to do the work yourself, here's what's required in order to get a murky pool back to a state of crystal-blue perfection: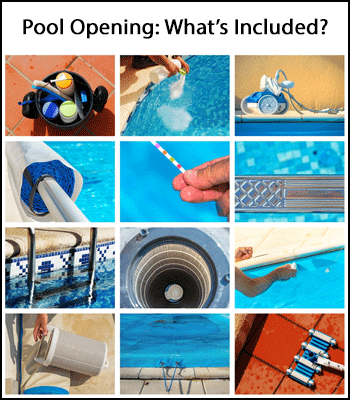 Clean up the area around the pool to prevent debris from blowing into your soon-to-be clean pool.
If you have a solid pool cover, remove standing water from it using a cover pump. Mesh covers don't require this step. Both solid and mesh covers, however, should have debris removed using a brush or leaf net.
Remove the pool cover, clean, dry, and inspect it for damage, and patch any rips or tears. Place the cover in its storage bag and stow it in a clean, dry location off of the floor.
Remove winterization plugs and skimmer guards from the pool and put plugs that were removed for the winter back into the equipment (filter, pump, strainer, heater, etc.).
Add water to the pool, returning the water level to its typical operating level.
Clean the filter if you didn't do so when the pool was closed for winter.
Prime the pump and open the return side valves. You can now start the filter system up. Once it's running, check for any leaks.
Brush, skim, and vacuum the pool.
Once the pool water is clean of visible debris, check the water chemistry. This can be done with a home test kit, or you can take a sample to a pool store for analysis. The latter method is recommended to ensure proper chemical balance.
Balance the water by adding chemicals. Let the water circulate for 8-12 hours and test it again, then add more chemicals if necessary.
Inspect handrails, ladders, and the diving board for damage before installing them.
Enjoy another season of pool fun!
Benefits of Hiring a Pro #
Hiring a professional pool technician to open your pool is the best way to avoid mistakes and ensure that everything is done properly, especially if you've never opened a pool before. Even if you do feel you have the experience and knowledge to complete the task, a professional takes the burden off your shoulders. Not only will they be able to perform every step listed above without issue, they'll be able to do it much more quickly than you could.
Average Pool Opening Prices By Location (Updated 2023): #
| City or State | Zip Code | Average Price Paid |
| --- | --- | --- |
| Boston, MA | 02115 | $273 |
| Miami, FL | 33101 | $171 |
| Los Angeles, CA | 90001 | $199 |
| New York City | 10001 | $275 |
| Phoenix, AZ | 85001 | $241 |
| Las Vegas, NV | 88901 | $195 |
| Houston, TX | 77084 | $249 |
Swimming Pool Opening Average Costs #
Hiring a professional swimming pool service to open your pool for the summer might cost $200 - $300. Particularly dirty (green) pools might cost $300 - $400 to open.
Taking the DIY approach, you'll still have to pay for a test kit ($20 - $50) and pool chemicals. A spring start-up kit with all the chemicals needed for your pool might cost $25 - $75 at a swimming pool store, or you can purchase the chemicals separately (and in bulk, if you want to save money). The estimate yearly cost for pool chemicals is $150 - $350 and up to $500 depending on the pool size and products used.
Video: When Is The Right Time To Open Your POOL? | Swim University #
Watch the video below to learn what the best to open your pool is in your area:
Resources:
Use Our Free Service and Find Pool Companies Near You #