Browse all articles for: Landscaping
How Much Does a Load of Sand, Mulch, or Rocks Cost?
Last Updated: June 01, 2023
Sometimes you just need to fill a hole. If you are you may be looking for one of these three things; sand, mulch, or rocks. Fabric of the earth. These materials are great fillers for landscaping. Some are decorative, some act as filler, but all of them are necessary for landscaping and making a piece of property complete.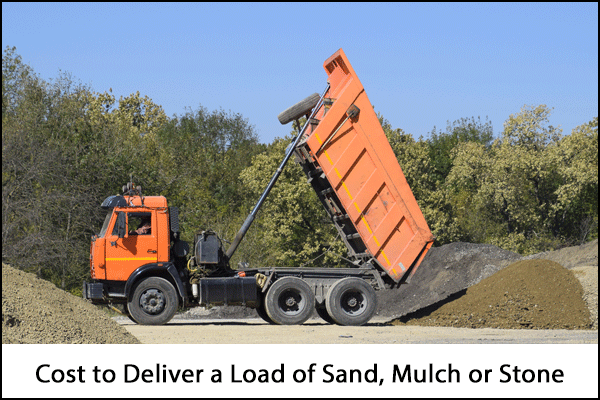 Sand Delivery Prices #
A load of masonry sand, river sand, or granite sand will cost anywhere from $25 to $40 per ton. One ton of masonry sand or river sand will cover roughly 35 square feet, 1 inch thick. One ton of granite sand will cover about 75 square feet, 2 inches thick.
Rock Delivery Prices #
There are various kinds of rock that you can buy for landscaping purposes. There's field stone, river rock, limestone, and the list goes on. Most all types of rock can be purchased for $25 to $55 per ton. Rock is sold in the same way sand is, by the ton.
Mulch Delivery Prices #
Mulch is usually purchased by the yard. One yard of mulch costs $35 to $50 for one yard. When a "yard" is referred to in landscape terms people are most often referring to a cubic yard, meaning one yard by one yard by one yard, 27 cubic feet. A yard is measured by volume, not by weight. One yard of mulch weighs about one third of what one yard of sand weighs. How much is that in terms you can visualize? That will be one heaping load of mulch in a small to midsize pickup truck bed.
Benefits of mulch and Tips on how to use it best
Things to Consider #
Rock and sand are measured by weight. Mulch is measured by volume. You may want to question anyone who tries to sell you mulch by weight. The reason mulch is not sold by weight is it's very absorbent. It can vary greatly in weight from one end of the spectrum to the other based on how much water is held inside.
Tips and tricks for spreading gravel
Average Sand, Mulch, or Rocks Delivery Prices By Location (Updated 2023): #
| City or State | Zip Code | Average Price Paid |
| --- | --- | --- |
| Boston, MA | 02115 | $804 |
| Miami, FL | 33101 | $640 |
| Los Angeles, CA | 90001 | $1,236 |
| New York City | 10001 | $876 |
| Phoenix, AZ | 85001 | $906 |
| Las Vegas, NV | 88901 | $1,306 |
| Houston, TX | 77084 | $949 |
Video: Mulch/Rock, Which Should You Use in Your Landscape? #
Watch the video below to learn if you should use mulch or rock for your landscaping:
Use Our Free Service and Find Mulch, Rock or Sand Companies Who Will Deliver Near You #