Browse all articles for: Hot Tubs
Hot Tubs for Two: How to Determine the Cost and Get the Best Deal
Last Updated: January 11, 2023
CostOwl.com note: Need a hot tub at an affordable price? Fill out the 30 second questionnaire below and our hot tub partners will send you free price quotes.
About Two/Three Person Hot Tubs #
If you are looking for a solo soak after work or a quiet, relaxing night with your significant other, a two-person hot tub may be all you need. These smaller, cozy tubs offer many of the same benefits as larger tubs at a much lower price. They also fit nicely into small spaces and are portable enough to come along if you move.
All major manufacturers offer two-person spas. And you can go as basic or luxurious as you want. There are small oval-shaped tubs with just a handful of jets, triangle-shaped tubs with two lounge seats and 20 or so jets, and more traditional square-shaped tubs with hydrotherapy seats and as many as 40 jets.
Keep in mind that many three-person hot tubs only seat two comfortably. So when you're considering a two-person tub, it's a good idea to look at three-person spas, too. They're generally within the same price range.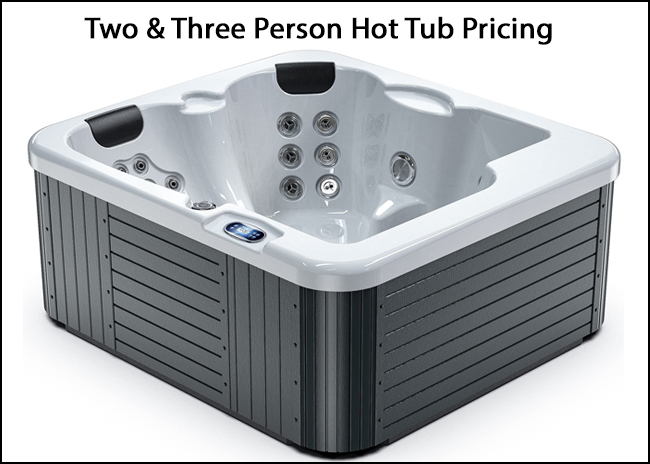 Two-person Hot Tub Average Costs #
Two-person hot tubs typically range in price from $3,000 to $12,000. At the lower end of that price range, you will get a small, basic hot tub with about 10 jets and a simple seating arrangement. At the higher end, you can buy a larger two- to three-person tub made by a well-known manufacturer with features like hydrotherapy seats and a waterfall.
The Aquarest 300 2-Person with Plug-N-Play Spa including 20 Stainless Steel Jets and an LED Waterfall costs $3,399.
A Hudson Bay HB14C Spa with 14 jets, multi-colored underwater mood lighting, and Balboa controls costs $2,899.
The Tropic Spa Hurricane 2 Person V-058 with 58 jets, LED lights, bluetooth and WiFi costs $8,899**.
A 2 Person Outdoor Whirlpool Spa Hot Tub with waterfall and 25 jets costs *$5,299.
A 2 Two Person Hydrotherapy Bathtub Hot Bath Tub Whirlpool Spa with a free cover costs $4,799.
The Dream Maker Fantasy, two-person portable spa costs around $4,000. It's a corner spa that plugs into a standard wall outlet.
The Hot Spring JETSETTER® with salt or ozone sanitizing system costs about $15,000.
The Sundance Dover, a two- to three-person spa, also sells for about $12,900. It is a luxury spa with features such as a waterfall, LED-lighted footwell, beverage holders, 22 jets, adjustable massage controls and side-by-side seating.
Two-person Hot Tub Delivery and Installation #
The cost of delivery and setup is often included in the price of a hot tub. If not, you can probably negotiate a discounted rate as part of a total spa package that includes other accessories you want or need, such as a cover, cover lifter and steps leading up to the tub. Keep in mind that the price is always negotiable to some extent.
Installation costs vary from almost nothing with the smallest tubs to several thousand dollars. You'll need a flat, level surface for the tub such as a deck or concrete slab, so if you don't have one, you'll have to build one.
The smallest two-person hot tubs can be filled with a garden hose and plugged into a standard 110-volt electrical outlet, meaning you won't have to worry about hiring a plumber or an electrician. Larger two-person tubs may require some professional wiring, which will run $50 to $120 per hour.
Watch: Top 5 Best 2 Person Hot Tubs 2022 Reviews #
Watch this video to learn about the top rated 2 person hot tubs in 2022.
Resources:
Use Our Free Service and Find Hot Tub Companies Near You #