Browse all articles for: Hot Tubs
In-Ground Hot Tubs: How Much Will It Cost You to Install One?
Last Updated: January 11, 2023
CostOwl.com note: Need a hot tub at an affordable price? Fill out the 30 second questionnaire below and our hot tub partners will send you free price quotes.
About In-Ground Spas #
In-ground hot tubs are the most expensive of all spas. The price doesn't have much to do with the tub itself. The expense comes with the site work and excavation that has to be done to install an in-ground hot tub. You'll need to hire a professional to do the installation, plumbing and electrical work.
However, in-ground spas are generally considered more attractive than above-ground spas. One can be incorporated into your deck or patio and customized to match your home's style and landscaping. It will increase the resale value of your home, as long as the next buyer is interested in having a hot tub.
In-ground hot tubs are also ideal for commercial use in hotels, spas or gyms.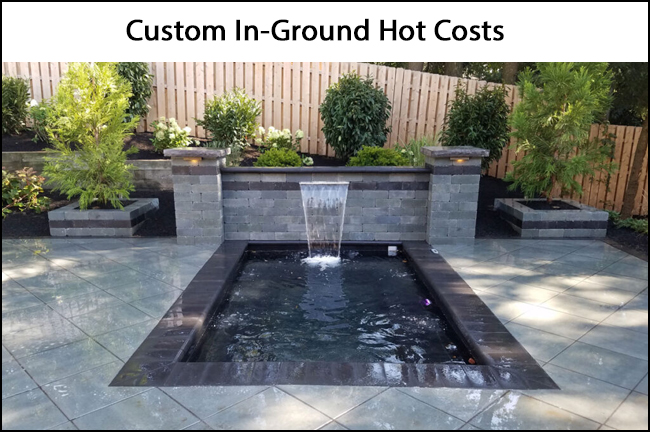 Types of In-Ground Hot Tubs #
There are two basic options in selecting an in-ground spa. You can buy a pre-fabricated in-ground spa shell or hire a contractor to do a custom build. Many well-known spa brands sell pre-fabricated shells. Some are even pre-plumbed. On the other hand, you'll have fewer design options than you would with a custom build.
Pre-fabricated in-ground hot tubs are usually made of acrylic or stainless steel. They come in a variety of shapes, including round, oval, square and kidney. Typically, they seat up to eight people.
Custom-built in-ground hot tubs are made of concrete - often a type of concrete called gunite. Many people opt for a decorative tile overlay. The seating configurations are simple - usually bench or step-like seats instead of contoured seats or loungers. Custom builds can be much larger than pre-fabricated spas, seating up to 16, but often have fewer jets.
In-Ground Hot Tub Average Costs #
Most custom-built in-ground spas cost $15,000 to $20,000.
Pre-fabricated spas are a little less expensive. Acrylic shells sell for anywhere from $4,000 to $12,000 or more. Plan on an extra cost of $4,000 to $5,000 for installation.
A three-person acrylic shell begins at around $4,000, pre-plumbed. The price includes delivery but not setup and installation. Often, you'll actually need three or more people around to help remove the tub from the truck.
A 10-seat kidney-shaped acrylic shell with 16-jets, pre-plumbed, begins at around $6,000, not including setup or installation.
In-ground hot tubs cost more to operate than above-ground tubs - sometimes as much as $100 per month. One the other hand, they heat faster and are better able to maintain high temperatures because the ground acts as insulation.
Because heating systems are not sold as part of an in-ground spa, but separate components, you can choose between electric, propane, or natural gas heat. In the long run, natural gas is usually cheaper.
In-Ground Hot Tub Installation #
The location of your in-ground hot tub is a major decision because of the lack of portability. Once you pick a spot, you're stuck with it! So make sure the area is convenient. If you prefer a spot with full sun, pay attention to which areas of your yard stay sunny most of the day.
You'll need to select a reputable contractor that has experience with in-ground spa installation. A pool dealer is a great option. Ask the dealer or contractor you select if their work is guaranteed.
In-ground spas typically take two to six weeks to build, with pre-fabricated spas on the lesser end of that. In many cities and towns you'll need a building permit to install an in-ground spa, so be sure to check with city hall before you start digging.
Watch: See Some In Ground Hot Tub Projects #
Watch this video to see some examples of in-ground hot tub projects and get some inspiration.
Resources:
Use Our Free Service and Find Hot Tub Companies Near You #