Browse all articles for: Steel Buildings
How Much Does an Olympia Steel Building Cost?
Last Updated: June 01, 2023
CostOwl.com note: Need a steel building at an affordable price? Fill out the 30 second questionnaire below and our steel building partners will send you free price quotes.
Quick Summary: Olympia Metal Building Prices #
A simple Olympia steel building will cost around $15 to $20 per square foot while a customized building will cost around $20 to $40 per square foot.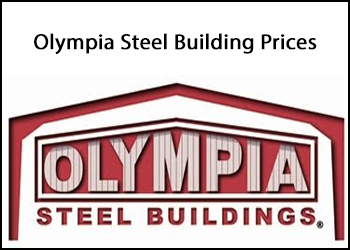 Olympia Steel Buildings has been making steel structures for more than 40 years. The company's high-quality, pre-engineered steel buildings are backed by some of the industry's best warranties, and Olympia works individually with each customer to create customized modular steel building kits that can be used for everything from barns and storage facilities to commercial steel buildings and truck terminals. Olympia Steel Buildings proudly manufactures all of its products in the United States and they are shipped to countries all over the world. By making exceptional steel buildings and delivering unsurpassed customer service, Olympia backs up its motto of, "Made of Steel, Built on Service."
Reasons to Buy an Olympia Steel Building #
The many reasons to buy Olympia prefabricated steel buildings include the following:
Olympia metal buildings are strong, durable, and virtually maintenance free. Not only is Olympia steel strong enough to withstand hurricane-force winds, but using it can save you up to 50% compared to traditional building materials.
Every Olympia steel building is backed by unsurpassed warranties, including a 25-year roof warranty, a 40-year paint warranty, and a lifetime warranty on stainless steel roof screws.
Olympia prefab steel buildings are made from high-quality U.S. steel in a state-of-the art manufacturing plant by an experienced work force.
Because they sell them directly to customers, Olympia steel buildings kits can save your business significant money.
You'll get exceptional customer service from Olympia's highly-trained steel building technicians.
As a member of the U.S. Green Building Council, Olympia is a company that cares about the environment. All of its painted sheeting is coated with a special paint that reflects the sun's rays and slashes cooling costs. In fact, the use of this material warrants a federal energy tax credit.
Types of Olympia Steel Buildings #
No matter what type of steel structure your business needs, Olympia has a quality-built, cost-effective pre-engineered metal building that will deliver results for years to come. The following are just some of the many applications Olympia steel buildings are suitable for:
Commercial buildings
Factories
Government buildings
Industrial buildings
Storage facilities
Public facilities
Riding facilities
Retail shops
Trucking buildings
Olympia Steel Building Average Costs - Samples #
Actual steel building costs depend on a number of factors, including material and labor costs, location, individual needs, and add-ons. The following steel building prices are therefore only meant to provide a general overview.
A relatively simple Olympia steel building might cost approximately $15 to $20 per square foot (including materials, delivery, concrete pouring, and assembly), while a more customized structure with numerous extras could cost around $20 to $40 per square foot. Bear in mind, however, that the larger the building is, the easier it becomes to lower the cost per square foot.

Because Olympia provides detailed computer drawings and a step-by-step building erection manual, constructing an Olympia metal building yourself is possible. Going the do-it-yourself route, you might pay around $5 to $15 per square foot just for the materials. Pouring a concrete foundation costs an additional $4 to $8 per square foot, and if you want to hire some help for labor, that would set you back another $5 to $10 per square. Insulation can save you significant money in energy costs over the long term, but will cost somewhere around $1 to $3 per square foot to install.

Use these actual prices paid by steel building customers nationwide to get a better idea of how much Olympia steel metal buildings might cost:

Garage for an RV and trailer: $6,000 to $8,000

30' x 40' Quonset hut (no installation): $7,000 to $8,000

30' x 40' structure (including concrete and installation): $25,000 to $35,000

30' x 50' building with (1) overhead door, (1) walk-in door, and shipping: $12,000 to $13,000

60' x 80' rigid frame building with two(2) door kits, three (3) window kits, insulation, and delivery: $35,000 to $40,000
Watch: Olympia Steel Buildings #
Watch this video to walk through some examples of their steel buildings.
Resources:
Use Our Free Service and Find Steel Building Dealers Near You #