Browse all articles for: Steel Buildings
Modular Building Prices, Real Examples & Complete Purchase Process
Last Updated: September 23, 2023
Reviewed By: Ryan Maguire
On This Page
CostOwl.com note: Need a modular building at an affordable price? Fill out the 30 second questionnaire below and our modular building partners will send you free price quotes.
Quick Summary: Commercial Modular Building Prices #
Modular buildings range from $50-$200 per square foot for residential units and $75-$200 per square foot for commercial units, with total costs from $50,000 for a small basic home up to $1,000,000+ for a large custom commercial building, depending on size, finishes, site work, transportation and other costs.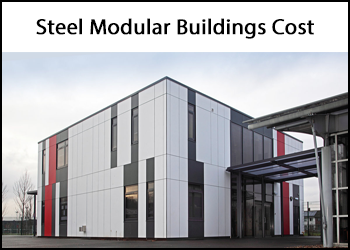 Modular commercial construction is growing in popularity for two basic reasons - price and convenience. Modular buildings are less expensive than traditional construction and they're much faster to construct.
With modular buildings, more than 90% of the construction process takes place in the factory. The building is then transported to the site in pieces and assembled into a single structure. The same construction materials are used; the only difference is the factory-controlled environment.
About Modular Commercial Construction #
There are two types of modular commercial construction: permanent modular construction and movable buildings. The difference is fairly self-explanatory - permanent buildings are designed to stay put while movable buildings can be moved from one site to another.
There are several advantages to building in a factory-controlled environment. The building is not subject to the elements during construction. And once the building pieces arrive on site, construction is fast and simple.
According to a McGraw-Hill construction report, prefabrication and modular construction have contributed to greater efficiency in the construction industry. The majority of industry professionals surveyed reported decreased project schedules, decreased budgets and a decrease in construction site waste.
Most modular commercial buildings are 1,000 to 2,000 square feet. Each module or piece is generally 10 to 18 feet wide and 36 to 76 feet long. The width varies based on state shipping regulations.
Modular Prefab Building Average Costs #
Modular buildings are prefabricated in a factory and then transported to the site for installation. Here are typical price ranges:
Residential Modular Homes
Small 500 - 1000 sq ft basic modular home: $50,000 - $100,000 total ($100 - $200 per sq ft)
Medium 1500 - 2500 sq ft custom modular home: $150,000 - $300,000 total ($100 - $150 per sq ft)
Large high-end custom modular with premium finishes: $500,000+ total ($200+ per sq ft)
Commercial Modular Buildings
500 - 1000 sq ft basic commercial modular unit: $75,000 - $200,000 total ($75 - $200 per sq ft)
1000 - 5000 sq ft restaurant, classroom, office modular building: $250,000 - $1,000,000 total ($100 - $200 per sq ft)
Additional Modular Building Costs #
Site preparation and foundation: $15,000 - $100,000
Transportation of modules: $5,000 - $15,000 per module
Crane rental for installation: $5,000 per day
Permits: 2% - 5% of total costs
Interior fixtures and finishes: $20 - $100 per sq ft
Portable classrooms and offices fall on the lower end of that scale. On the high end, expect a sophisticated building with high-quality materials. Keep in mind, however, that prices tend to vary based upon the region of the country. Modular commercial buildings on the east and west coasts are more expensive than in the south and Midwest.
If that sounds like more money than you're willing to spend, consider buying a used modular building or leasing a building. Leases begin at around $300 per month for a small building but might cost $6,000 or more for larger buildings. Delivery and setup fees may also apply.
Modular Building Real Life Examples #
Here are some real life examples of people who purchased modular buildings with pricing:
Ryan in Florida bought a 24' x 40' modular office building from ModSpace for $50,000. This included delivery, installation, AC/heating, bathroom, and basic finishes. He uses it as the main office for his construction company.

Sophia in Oregon purchased a 16' x 32' modular classroom from Pacific Mobile Structures for $85,000. This included permits, foundation, ramp, insulation, AV equipment and installation at the school district. It serves as an extra classroom.

Jacob in Texas ordered a custom modular home from Ritz Craft for $150,000. This included 2 bedrooms, 2 baths, kitchen, laundry, and open living space all prefabricated and delivered to his rural property.

Olivia in New York had a modular restaurant installed by AmeriBuilt System Homes for $250,000. It came with commercial kitchen, dining area, ADA bathroom, and terrace. She leases it to a local cafe.

Noah in Maryland bought a used 8' x 20' office modular from ModSpace for $15,000 and had it installed on his business lot for $5,000 more. He uses it as a job site office and break room.

Emma in California purchased a modular building kit from General Shelters and constructed a backyard art studio for $30,000 total. It includes lighting, AC/heat, and custom interior finishes.
Steps for Purchasing a Modular Building #
Determine your needs - Define the purpose, size, layout, and features you require for the modular structure. Consider current needs and future flexibility.

Research modular vendors - Look for reputable modular building manufacturers or dealers in your local area. Evaluate options by capability, quality, customization, price, and reviews.

Design consultation - Work with the modular vendor's design team to create a floor plan optimized for manufacturing and transport. Make customization choices.

Permitting - Modular vendors will handle much of the permitting paperwork, but you may need to pull local building permits or confirm zoning allowances.

Site preparation - Prepare the site by leveling, compacting earth, pouring foundation, and installing utility hookups according to modular building requirements.

Manufacturing - The modular structure will be fabricated in the factory using your floor plans, meetings your finish selections. This usually takes 4-6 weeks.

Transportation - Modules will be trucked to your final site via special vehicles. All transportation coordination and costs are handled by the modular company.

Installation - A crane will lift and assemble the modules onto the foundation. A crew will then join the pieces and complete exterior finish work.

Interior finish - Like a site-built home, you will need to complete all interior fixtures, finishes, painting, flooring, etc. Some customization may have been pre-finished at the factory.

Inspections - Local inspectors will check completed electrical, plumbing, structural, etc. before issuing a certificate of occupancy.
How Long Does it Take to Build a Modular Building? #
The typical timeline for having a modular building fully constructed and ready for use is 12-16 weeks from order to completion.
Here is a breakdown of the modular building construction timeline:
4-6 weeks for factory manufacturing of the modular units
1-2 weeks for transportation of finished modules to the site
3-5 days for onsite assembly and joining of units
4-6 weeks for interior finish work after installation
So in total, you can expect around 3-4 months from starting the process to having an occupiable modular structure.
The factory construction of modules happens concurrently with site prep work for the fastest overall timeline. The key advantages are manufacturing out of weather and finishing interiors after installation.
Watch: Is Modular Construction the Future? #
Watch this video to learn about the future of modular construction and why it is becoming popular again.
Resources:
Use Our Free Service and Find Commercial Modular Construction Dealers Near You #