Browse all articles for: Steel Buildings
Building a Steel Gym? Costs, Examples, Pros & Cons
Last Updated: September 22, 2023
CostOwl.com note: Need a steel building at an affordable price? Fill out the 30 second questionnaire below and our steel building partners will send you free price quotes.
Quick Summary: Metal Gym Prices #
The cost to build a metal gymnasium will generally range $100-$300 per square foot to construct. Large gyms easily cost $2 million+..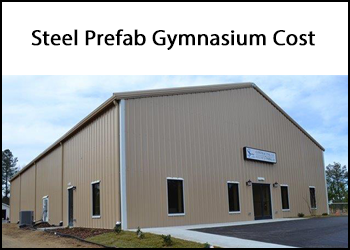 Steel buildings are the perfect choice for constructing a gym, due to their ability to accomodate open spaces. A steel building offers the high ceilings and uninterrupted floor space that every gym needs.
Benefits of a Steel Gym #
When it comes to building a gym, steel buildings offer the perfect layout. This is because there is no need for support columns in the middle that obstruct the flow of the floor space. That free, open space makes steel buildings ideal for gymnasiums, dance studios, and indoor courts.
Steel buildings come with a host of other benefits, as well, some of which include:
Accessories: Just because it is a steel building doesn't mean it has to look like a metal box. Custom entryways, skylights, ventilation, and windows are all available with steel buildings to provide you with everything you need to make even a gymnasium beautiful. Additional stylistic attachments are also available to improve the aesthetics of the outer building.
Durability: Steel buildings are incredibly durable, able to withstand even the most extreme weather conditions. Areas that frequently experience severe weather are ideal locations for pre-engineered metal buildings.
Low-cost: A pre-engineered steel building costs significantly less than a gym made from more traditional materials. It also reduces your labor costs, since erecting the building is quick and simple.
Low-maintenance: Steel buildings come with far less maintenance than those made from aluminum or wood. A properly built, quality steel building resistants mildew, mold, rot, and rust. Simply perform a routine maintenance check twice a year to ensure everything is in order, stay on top of minor repairs, and your steel building will last for decades. It is also a good idea to wash your steel building at least once a year.
Variety: Though most people tend to think of steel buildings as nothing more than a box, there are multiple style options to choose from. There are different roof panels, sidings, trims, and wall panels you can pick to create the perfect steel gym.
How Much Do Steel Gymnasiums Cost? #
The cost of steel gymnasiums depends on the style of building, size of the building, any additions, your location, and the supplier you purchase through. Costs also differ from DIY kits to traditional structures, with DIY kits typically coming in at a lower cost. What follows is a general pricing guide to provide an idea of what you can expect to pay for your steel gym.
Building a steel gymnasium generally costs $100-$300 per square foot. Pricing depends on size, location, features, and more.
A basic high school gym with a single basketball court, bleachers, and minimal amenities can be built for around $150/sq ft, or $750,000 for a 5,000 sq ft gym.
More complex gyms with locker rooms, multiple courts, concessions, offices, etc can range $200-300/sq ft. A 10,000 sq ft gym would cost $2-3 million at these rates.
Major Cost Components:
Steel building shell - The raw steel framing and sheeting costs $15-$25/sq ft for a barebones structure.

Foundation - Reinforced concrete slab runs $5-$10/sq ft for site prep and the foundation.

Flooring - Specialty wood or synthetic gym floors are $10-$20/sq ft installed.

MEP - Electrical, plumbing, HVAC systems add $15-$30/sq ft.

Amenities - Lockers, bathrooms, bleachers, offices, scoreboards, etc add substantial costs.
Gymnasiums require ample space and height, adding to steel costs. But the wide open interiors and high load capacity make steel an ideal gym building material.
Steel Gymnasium Cost Examples #
Here are some real-life steel gymnasium cost examples:
A high school in California had a 15,000 square foot steel gymnasium constructed in 2021 for $2.1 million. This included a full basketball court, locker rooms, and bleacher seating for 500 spectators.

A private university in Texas built a 10,000 square foot steel gym in 2020 that cost $1.5 million. It featured a gym floor, fitness equipment area, bathrooms, and offices.

An indoor sports facility in Ohio had a 20,000 square foot steel structure erected in 2019 for $2.8 million. This large gym housed 2 full basketball courts and concession stands.

A community center in New York constructed a 7,500 square foot steel gymnasium in 2018 for $950,000. It included a gym floor and storage room.

A high school in Washington built a 5,000 square foot single court steel gym in 2017 for $650,000. This simpler design had basic bleachers but no locker rooms.
Key Cost Factors:
Size, location, complexity, and amenities greatly impact steel gym pricing. But generally they range $100-$300 per square foot to construct. Large gyms easily cost $2 million+.
Additional Considerations #
While price is important, it should never be the only factor you consider when looking into steel buildings. Remember that you absolutely need a solid concrete foundation; otherwise your steel building has a much shorter lifespan. It also doesn't have the stability required and may even begin sinking, depending on the type of ground.
In addition, don't forget to plan for any piping or utilities that need to be put through the foundation. Contact your utility company to see what you need to do for them to hook up any connections and what should be done with your foundation.
Think about the design of the structure, i.e. where you want doors, lights, and windows to ensure the building is everything you want it to be. It is a good idea to erect your steel building in late spring. The ground has dried, giving you plenty of decent weather to complete construction before the winter starts.
Steel Gymnasium Pros and Cons #
Here are the pros and cons of building a metal gymnasium:
Pros of a Metal Gymnasium
Cost effective - Steel buildings are much more affordable than traditional construction.

Durable - Steel structures withstand heavy use and extreme weather well with little maintenance.

Open space - Steel allows large clear spans without interior columns interrupting floorspace.

Fast to erect - Steel components assemble quickly compared to stick-built gyms.

Energy efficient - Properly insulated steel buildings provide thermal efficiency.

Customizable - Many options exist for aesthetics like colors, windows, trim etc.

Low emissions - Steel is the world's most recycled material and manufacturing has low emissions.
Cons of a Metal Gymnasium
Appearance - Some find the metal industrial look of steel buildings unappealing.

Acoustics - Large steel structures can create noise echoes without acoustical treatments.

Temperature swings - Uninsulated steel buildings can get very cold in winter and hot in summer.

Condensation - Poor insulation also causes interior condensation issues.

Future expansion - Expanding steel buildings is not as easy as conventional construction.

Permitting - Getting building permits approved for non-traditional metal buildings can be tricky.

Resale value - Steel gym resale values tend to be lower than conventional buildings.
Watch: Get More with Metal: Recreation & Fitness Buildings #
Watch this video to see how highly versatile a metal building is for the fitness and recreation industyr.
Resources:
Use Our Free Service and Find Steel Building Dealers Near You #