Browse all articles for: POS Systems
Price Comparisons for Grocery POS Systems: Which One is Right for Your Business?
Last Updated: April 24, 2023
CostOwl.com note: Need a POS system at an affordable price? Fill out the 30 second questionnaire below and our POS system partners will send you free price quotes.
The nearly 65,000 grocery stores in the United States total close to $500 billion in annual sales. Whether you run an independent grocery store, a specialty market, or a franchise chain you want to do everything possible to earn your fair share in this large industry. With such steep competition, however, operational mistakes must be kept to a minimum. A grocery store point-of-sale (POS) system is an invaluable tool for tracking inventory, ensuring speedy checkouts, running loyalty programs, and doing all the other things that separate a successful grocery store from an unsuccessful one.
Grocery Store POS System Average Costs #
A grocery store POS package that contains all the hardware and software you need to get started costs $2,500 to $5,000 per station. The price discrepancy between bundles reflects the quality of the components and whether a support package and/or a warranty and/or credit card processing are included. Lower-priced bundles costing $500 to $1,500 are available, but they may not include all system components. Purchasing multiple stations/terminals can save you money.
A back office management station (CPU, monitor, keyboard, mouse, and software) costs $1,000 to $1,500.
If cost is a concern, consider a refurbished POS system. Leasing is also an option. Most vendors offer financing.
Credit card processing software, if not included, costs $300 to $600. On top of that you can expect to pay transaction fees of approximately 2% of the value of each sale.
POS software alone starts at $250 to $500 per lane/user but can cost as much as $1,000 to $2,500 per lane/user depending on features.
A new generation of cloud-based POS software combines the functionality of traditional POS software with real-time remote access, automatic updates, support, and more. It costs roughly $50 to $400 per month depending on the number of employees, registers, and stores.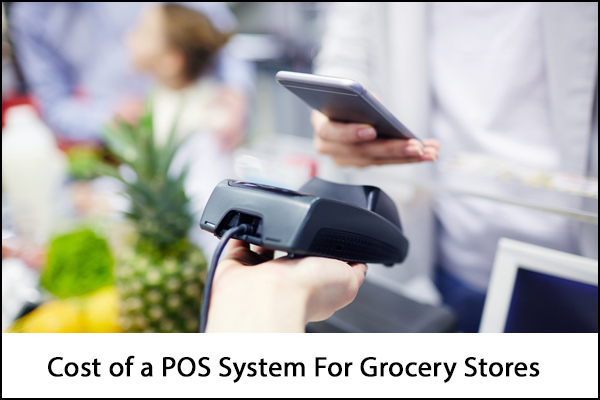 What's Included with Grocery Store POS Systems #
A grocery store POS system includes hardware and software.
POS Hardware
Customers can purchase POS packages or buy components individually. In either case, a basic POS system consists of the following:
Computer and monitor or an all-in-one PC. Touchscreen monitors/all-in-ones are a popular POS option.
Keyboard and mouse
Cash drawer
Receipt printer
Scanner/weight scale
Customer display pole or LCD customer display screen
Credit card reader (might be built into an all-in-one PC)
POS Software
POS software has two basic functions. At the register, it facilitates quick and accurate customer checkout. In the back office, it helps to manage inventory and other administrative tasks.
Underlying both of these POS functions is information processing. With a powerful CPU and sophisticated software, a POS system gathers and organizes huge amounts of data into usable forms. For example, frequent buyer/customer discount cards collect purchasing information that can be used to maximize sales by providing more of the products that customers want. And real time inventory tracking helps you see what's selling, what isn't, and what needs to be pushed (i.e. perishable items that are about to reach their shelf life). Automatic ordering, furthermore, reduces human error as stock is reordered according to minimum/maximum levels.
But perhaps the best feature of POS software is its ability to generate reports. "Big data" analytics is driving the next phase of retail innovation, and stores that can't use reams of information to their advantage are bound to lose out to those that can. Take control of your store's data with POS reporting services which allow you to view customer purchases and vendor data, determine best and worst selling products, compare sales trends, analyze costs, perform accounting, and much more.
Watch: Grocery POS Systems : Green's Grocery & Cafe : POS Nation Case Study #
Watch this video to see a demo of a grocery store POS system.
Resources:
Use Our Free Service and Find POS System Companies Near You #