Browse all articles for: Phone Systems
Making Sense of VoIP Phone System Pricing: A Breakdown of Costs and Features
Last Updated: May 24, 2023
CostOwl.com note: Need a VoIP phone system service at an affordable price? Fill out the 30 second questionnaire below and our VoIP phone system partners will send you free price quotes.
}
Summary: VoIP Cost #
The average monthly price paid for a VoIP phone service is $25 per user. An IP phone costs $500 on average however a desk phone is not required to utilize VoIP.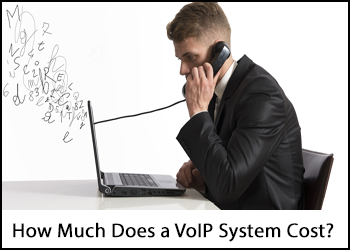 About VoIP #
VoIP is short for Voice over Internet Protocol. It allows voice information to be sent over the internet rather than a traditional phone line. It was one of the most exciting developments in phone system technology since the invention of the telephone. VoIP can slash your phone bills in addition to providing features not available on previous generations of business phone systems.
In a nutshell, VoIP works by transforming analog audio signals (like your telephone uses) into digital signals that can be transmitted over the internet. Internet telephony, a version of VoIP used by consumers, allows significant money to be saved by routing long-distance calls over the internet using a standard telephone, an adapter, a broadband internet connection, and a VoIP subscription service.
While this is more or less how the technology works for a VoIP office phone system, VoIP in the workplace provides further benefits. Because IP phone systems utilize your existing Local Area Network (LAN) or Wide Area Network (WAN), there is less physical infrastructure (think: a closet full of bulky telephony equipment and complex wiring). Despite this, you still get all of the features and functions you need and expect from a traditional PBX phone system including:
Auto attendant
Caller ID, Call Waiting, Call Forwarding, Conference Calling
Call Monitoring and Call Recording
Voicemail/Voicemail to email
Web based management
Of course, if you were interested in the same old then you wouldn't be shopping VoIP office phone systems, the benefits of which are numerous.
It's important to note, however, that there are two very different types of VoIP for business:
VoIP service is a subscription-based service that routes all of your outgoing calls through the Internet. There's no need to buy hardware, and customers are billed monthly. Currently, VoIP service is really only adequate for small businesses.
VoIP systems, used in medium and large businesses, consist of hardware and software that need to be installed on-site. They allow remote offices to operate on a single network, eliminating long-distance fees between offices or with employees who telecommute. They do not replace traditional phone lines for communicating with the outside world, although that technology is being developed.
VoIP Benefits #
Cost Savings: not only will your calling costs will be slashed but you can eliminate the cost of maintaining a separate phone system network and paying a phone company.
Easy to set up remote locations: telecommuters call centers, and branch offices can be added to an existing VoIP phone system wherever there's an internet connection and controlled from a central location.
Integration: other business systems are a snap to integrate into your VoIP phone system, increasing office production, efficiency, and profits.
Simple management: the entire operations of a VoIP system can be viewed from a web browser, allowing you to view statistics, analytics and more whenever you want.
The ability to grow with your business: with VoIP, you don't need an entirely new PBX once your business grows to a certain number of workers. Now, all you have to do is add a new VoIP phone and add an extension via software.
Energy Efficiency: VoIP phones use approximately 40% less energy than traditional business phones.
VoIP Phone System Prices #
VoIP monthly prices range from as litle as $20 per user/month up to $50 per user/month. The cost of desk IP phone systems vary widely and will cost between $200 and up to $1500 per phone. Special phone systems not required to use VoIP, however they can enhance the experience as they are designed to cater to VoIP.
VoIP phone system costs vary considerably depending on a number of factors, including your chosen features, and your current telephony infrastructure and data network. Bear in mind that your costs up front for hardware and installation could be considerable. There will be a monthly service fee. Also, VoIP small business phone systems will have a higher initial cost per user than a large enterprise. Still, you are likely to see cost savings in the long run as you will be paying less for administrative services, long distance calls, and interoffice calls.
Small Business VoIP #
At one time, it was only the largest companies that saw cost savings from switching to VoIP. If a company had over 500 employees it could save a corporation 30% on their phone bill. That's incredible when your phone bill costs tens of thousands of dollars per month. It had such a large impact that it boosted the economy significantly in the 1990s!
Today, VoIP is not just for large and medium sized businesses. It's for everybody. The technology has come down in price. With the call clarity, integration abilities, and ease of use of VoIP systems today, there's a solution that makes sense for most companies. Even the smallest businesses are enjoying the benefits of this technology, now.
Sample prices for business VoIP phone systems: #
A 16 phone VoIP setup with typical features can run anywhere from around $8,000 to around $30,000
A 64 phone VoIP system with installation and a dedicated server might cost around $35,000 to $50,000 and up.
A refurbished Cisco UC520 Unified Communications small business phone system costs around $8,000 (note: this cost is for the unit only). This system supports up to 48 users and provides voicemail, automated attendant, call center capability, music on hold, and more.
An Avaya IP Office IP500 Phone System costs approximately $15,000. At this price you can get a control unit configured for 68 extensions, 4 port voicemail (x500 mailboxes w/ 100+ hours of storage), auto attendant, voice to Email, call recording, dial by name, 49 phones, and much, much more.
You can get a Vodavi XTS-IP phone system n LG Phone System that supports 69 lines and 180 phones for approximately $50,000. A setup at this price should provide features such as a 5-year warranty, 48 voicemail ports, unlimited mail boxes, unlimited direct lines, Caller ID, conference calling, music on hold, call screening, 100+ VoIP phones, and much, much more.
Watch: 6 Best Business VoIP Providers in 2022 (Compared) #
Watch this video to review some of the best recommended business VoIP Services to help you decide which one is right for your business.
Choosing a VoIP Phone Service #
Here are some tips to consider when shopping for a VoIP phone service:
If you're buying an international plan, make sure to ask for a full list of countries that can be called for no extra charge. If you're constantly doing business in Japan, but calls to that country aren't included, the service isn't worth your money.
Analyze your current phone bill to get an estimate of how many minutes per month you use. If you're topping 2,000, a plan with 1,500 minutes won't cut it. Opt for the unlimited plan instead.
If you're looking to save money, consider paying for a year's worth of service upfront. Most VoIP service providers offer significant discounts to companies that do.
If you're purchasing a VoIP phone system, plan for room to grow. It's far less expensive to purchase a system with extra capacity than to upgrade the system down the road.
Resources:
Use Our Free Service and Find VoIP Phone System Companies Near You #