Browse all articles for: Phone Systems
How Much Does an On Hold Messaging System Cost?
Last Updated: January 04, 2023
Reviewed By: Ashley Smith
On This Page
CostOwl.com note: Need an on hold messaging service at an affordable price? Fill out the 30 second questionnaire below and our on hold messaging partners will send you free price quotes.
Think of the time during which your business phone line has anyone on hold as an opportunity. Leading message/music on hold (MOH) systems help ensure you don't lose current and potential customers or clients during poorly utilized moments on hold.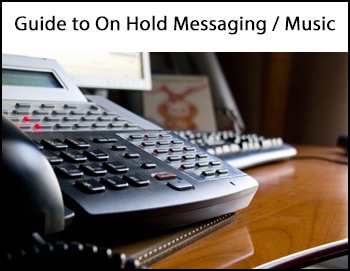 Top music on hold (MOH) systems are designed with simple integration in mind. Today's MOH message unit or software package is available with more marketing options and customer pleasing features than ever available before. MOH systems can utilize media to fill silent phone wait time with customized music, specific business information, and marketing advertisements.
About Messaging Systems #
On hold systems support physical media via unit equipment and connection with an analog telephone line and virtual media via a USB flash drive, network access, or a remote Ethernet connection. Online, on-hold system services make accessing and downloading MP3 music and message files easy.
Physical media MOH methods provide quality control with prerecorded and licensed CDs, although some units still use cassettes. CDs are designed with or without voice-overs. Brief voice-overs, such as "Calls will be answered in the order that they were received", or "Please hold, your call is important to us," are basic examples. However, many vendors suggest more customized messages.
Popular and effective scripted announcements can include information on business hours, location, directions, promotional services or sales, and any other relevant customer service related message. Music, marketing messages, and interactive customer response features (i.e. customer satisfaction surveys) can be catered to captivate and engage your customer while they wait.
On Hold Messaging Average Costs #
The cost of a message/music on hold system depends on whether you require physical media equipment. Digital MOH equipment can cost between $150 to $1,500, due to differences in the type of hardware and its capabilities (i.e. included phones, or phone line and extension capacity). If you already have on hold equipment, a virtual media MOH system is typically billed as a one time fee or yearly contract ($100 to $700). Vendors may charge a one time set up fee (up to $100) and charge additional monthly ($50 to $90) or quarterly fees ($75 to $95). Many offer free 30 day system trials.
On Hold Messaging System Sample Costs #
InteliTouch MOH500E Music on Hold Adaptor for NON Ksu Phone - The Telecom Spot - $55 (free shipping) - On-hold audio capability for single or multi-line phones (music on hold for 1-4 lines & up to 16 extensions). Hold button activation requires a TEHMA device on each extension; purchase includes 2 TEHMAS.

Valcom V-9988 - MOH Messager; USB MOH System - Sears- $305.97 - Supports MP3 file playback without special drivers or software and flash drives up to 4GB. Includes 64MB USB flash drive with continuous playback of music and/or messages.

Bogen ProHold ProHold Digital Music MOH System - Zalmar Online Sales - $419.49 - 64 KBPS; 12-minute message storage length. Includes spring-loaded tape door and self-adjusting tape guides for correct tape orientation. Includes wall-mounting template and necessary hardware.

Telephony Warehouse- Nel - Techlabs Telephone Downloadable Messaging System Tel-A-Greeter 252 - $512.95 - 64Kbps,50dB Memory Type, local or remote telephone access; 11 separate recorded messages options and music on hold message plays during call transfers); 5-year parts and labor warranty

Staples- XBLUE X16 - 6-line phone system, including an 8pk of phones and a music/message on hold jack for $1,299.99. No internet connection required, since the X16 server connects to standard telephone lines).
Package A - generic courtesy messages with royalty-free music - $99
Package B - up to 3 custom messages, client produced script, choice of royalty free music - $199
Package C - Up to 10 custom messages, professionally written scripts, and choice of royalty-free music - $299
Custom on Hold Promotions by Minowa Voice-Overs- 3 separate audio production packages; one time fees:
4-minute custom audio production includes 6-9 custom messages and 2 selections of license-free music - $395
5-minute custom audio production includes 7-11 custom messages and up to 3 license free music selections - $450
6-minute custom audio production includes 9-12 custom messages and up to 4 license free music selections - $495
Watch: The 5 Benefits of On Hold Messaging for your Business! #
Watch this video to find out why customized messaging for your business phone system is very beneficial.
Resources:
Use Our Free Service and Find On Hold Messaging System Companies Near You #