Browse all articles for: Excavators
Bobcat Mini Excavator Cost: How to Budget for this Powerful Machine
Last Updated: January 11, 2023
CostOwl.com note: Need an excavator at an affordable price? Fill out the 30 second questionnaire below and our mini excavator partners will send you free price quotes.
Thanks to their extreme versatility, mini excavators are popular equipment, regularly used in construction, landscaping, agriculture, mining, and more. Their compact size lets them fit into tight spaces, and the fact that you can add attachments makes them highly versatile. There are many mini excavator manufacturers, but Bobcat is the name that's practically synonymous with construction equipment. The company has spent decades building its reputation as America's premier manufacturer of heavy-duty equipment, thanks to constant innovation and consistent quality.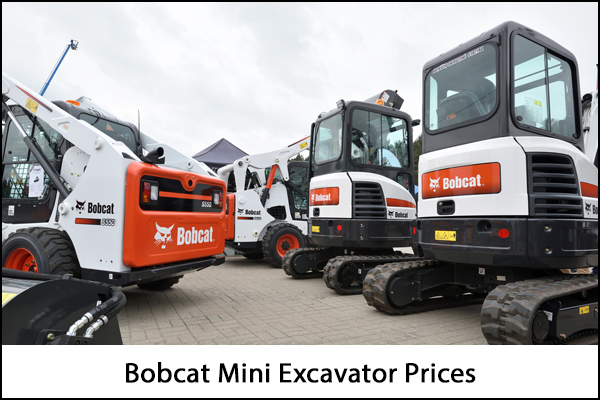 Pros of Bobcat Mini Excavators #
For over 60 years, Bobcat has designed compact yet powerful equipment. Their engineers consistently strive to improve not only durability and power but also operator comfort. Bobcat's mini excavators include ergonomic controls and greater visibility for increased productivity.
Bobcat's equipment design also includes the ability to add a wide variety of attachments that let you load, dig, level, lift, and more. Integrated flow pump systems, large capacity engines, and excellent hydraulics help create highly adaptable, responsive machines with reduced cycle times and incredible durability.
Sample Prices of Bobcat Mini Excavators #
The average new unit starts at around $60,000. If you're looking at a used machine, pricing typically varies according to the age of the unit and, again, the number of attachments.
Mini excavator pricing varies considerably based on the size and capabilities of the unit. You also see price differences based on the vendor, your geographic location, and how many accessories and add-ons the unit has. For example, expect to pay an average of $1,000 to $2,000 for every attachment, and sometimes as high as $10,000.
Sample pricing includes:
A 2021 Bobcat E35I with 111 hours, 24.8 HP and a dig depth of 10ft 2in sells for around $53,000.
A 2018 Bobcat E45 with 1100 hours, 42.6 HP and an enclosed cab costs about $57,500.
A 2017 Bobcat E35 with 1750 hours, and an enclosed cab sells for $46,500.
A used 2007 Bobcat 425, open station with a 60" leveling blade and around 2,500 operating hours averages around $30,000.
A used 2013 Bobcat E10, 1.2 ton with around 450 operating hours ranges between $12,000 and $15,000.
A used 2011 Bobcat E08, 1.0 ton with around 900 operating hours averages around $11,000.
A used 2015 Bobcat E26-T4 with around 330 operating hours ranges between $30,000 and $40,000.
A used 2014 Bobcat E35 with extendable arm and 205 operating hours ranges between $45,000 and $55,000.
A new 2015 Bobcat E32 ranges between $40,000 and $50,000.
A used Bobcat 345 with auxiliary hydraulics, push blade, hydraulic quick-attach, and 300 operating hours averages $50,000.
Video: 200 Hour Review 2020 Bobcat E35 Mini Excavator #
Watch this video to explore the 2020 Bobcat E35 r2 series with the long arm.
Points to Consider before Buying Bobcat Mini Excavators #
Floor space: Ample floor space improves operator comfort by broadening the seat's sliding rate to create legroom as needed, or for ease of reaching controls. Tired, uncomfortable operators are more likely to make a mistake and need breaks more frequently, both of which reduce productivity.
Size: The excavator must be both the right size for your project and the right size for your worksite.
Power: Engine power plays a large role in determining price, as well as the unit's dig and lift capabilities. There's no sense in paying for more power than you need, but there's also no sense in buying the cheapest unit if it can't do the job. Consider carefully what you plan to do with the excavator to ensure you buy a unit that does the job without paying for more machine than you need. When comparing proposals, review specs carefully and, when in doubt, discuss your needs with the vendor rep.
Variable undercarriage: This allows you to easily access confined or narrow spaces and improves stability so the machine doesn't wobble when the undercarriage is open.
The condition of the machine: If you're looking at a used unit, look carefully at the machine's condition. If you don't regularly operate this type of equipment, bring an operator or heavy equipment mechanic with you when looking at used models. If it has a working time operation gauge, look for units with less than 10 years working time. Inspect the track pads as well. If they have less than 40 percent life left, look for another unit.
Resources:
Use Our Free Service and Find Mini Excavator Dealers Near You #