Browse all articles for: EMR
Choosing the Right Mental Health Billing Software: Cost Breakdown for Psychologists and Therapists
Last Updated: August 15, 2023
CostOwl.com note: Need a medical software solution at an affordable price? Fill out the 30 second questionnaire below and our medical software partners will send you free price quotes.
Summary: Mental Health Medical Practice Management Software Cost #
Prices for most Psychologist MPM software plans can start as low as $30 to $50 per month per provider.
Medical practice management or MPM is vital to ensuring that accomplished therapists and psychologists can run successful practices. Leading MPM software is easy to use and improves office efficiency of several data related processes. No health care facility or service provider should to continue to tolerate major delays or loss of insurance compensation due to old and outdated billing practices.
Billing software programs do more than just keep track of patients' accounts and determine account receivable stats. Advantages include:
Faster communication of claims to insurance companies
Improved efficiency and accuracy which eliminates claim denials
Faster reimbursement rates and reductions in aged receivables
Minimized office expenses associated with paper billing methods
Security safeguards and HIPAA compliant information management
Billing Software for Mental Health Professionals #
Specialty practices often face a variety of challenges when managing their billing processes. Medical billing software designed especially for therapists and psychologists should be easy to use and have features catered to their needs.
It should provide clarity for specialty specific billing guidelines including:
Medication management
Pre authorization of psychological testing
Tests administered by technician/computer
Mental health parity benefits
Relevant state policies, laws, and regulations.
Other important questions to ask:
What insurance claims processor or clearinghouse do they use? Can you choose your own? (i.e. If needed can it go directly to Medicare?
What are ALL the fees you can expect? (i.e. training, data transfer and exportation fees, service and support, software branding, etc.)
Ask for references
How frequent are software updates and are they included in your price quote?
Is the software HIPAA compliant? What other security safeguards do they offer?
What are their customer training and support policies?
Are procedural and diagnostic codes (i.e. CPT & ICD9) purchased separately or included?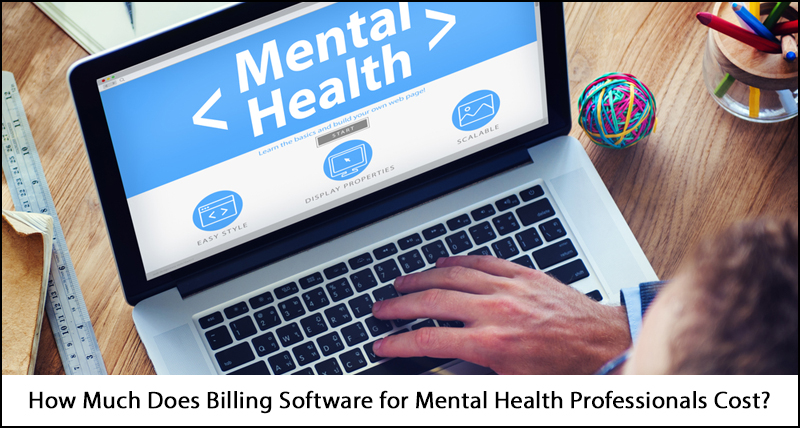 Average Psychology Billing Software Costs #
The cost for medical billing software is specific to each practice. There are pros and cons to with both client/server software system or a web/based software product. Client/server systems are often associated with higher up front costs. However, although web-based programs often come with lower start up costs, your office will be without access to the system if the internet is down or unavailable. Client/server medical insurance billing software- A professional technician installs the software and server on site. The cost of the software license on average is between $1,200 and $8,000. Lower costs are typically associated with more basic software. Software prices also increase with the number of users/physicians and also with additional features and functions (i.e. programs that also offer specialty specific EMR). Costs to consider, in addition to the software license include:
PC server(s)
Implementation and staff training
Ethernet switch/wires & back up hard drive
Software upgrades (annual
These items and services can cost an additional $6,000 to $60,000 (or more for larger facilities or practices). After software and hardware implementation and training are complete, any further support from a trained IT is typically $100 to $200/hour.
Web-based (ASP) software: On average, the billing software license costs range between $200 and $2000. Typically upgrades are annual, automatic, and free and any other additional fees will cost between $35 and $400 per month. Some vendors offer free trials, or semi-annual/annual fees.
Sample Prices on Billing Software for Psychologists/Therapists #
Sample prices for billing software designed for psychologists and therapists can vary based on the features, functionalities, and subscription plans offered by different software providers. Here are some rough estimates to give you an idea of the range:
Basic Plan: A basic plan might include essential features such as client management, appointment scheduling, and basic billing capabilities. Prices for such plans can start as low as $30 to $50 per month per provider.
Standard Plan: A standard plan could offer more advanced features like insurance claim submission, integrated electronic health records (EHR), and reporting tools. Prices for standard plans might range from $80 to $150 per month per provider.
Premium Plan: A premium plan might include comprehensive features such as advanced reporting and analytics, integrated telehealth capabilities, customizable templates, and support for larger practices. These plans could cost around $150 to $200 or more per month per provider.
| Billing Software | Starting Price | Key Features |
| --- | --- | --- |
| SimplePractice | $39/month | Scheduling, billing, client portal |
| TheraNest | $39/month | Scheduling, notes, billing, client portal |
| TherapyNotes | $49/month | Appointment scheduling, notes, billing |
| Kareo | Custom | Medical billing, practice management |
| CounSol | $49.95/month | Scheduling, video sessions, billing |
| Athenahealth | Custom | Customized pricing based on needs |
| PracticeSuite | Custom | Customized pricing based on needs |
Watch: Beginners Guide to Mental Health Billing for Mental Health Providers #
Watch this video to get answers to some common questions about mental health billing.
Resources
Use Our Free Service and Find Medical Practice Management Software Companies Near You #