Browse all articles for: EMR
Orthopedic Medical Billing: Costs, Benefits, and Solutions
Last Updated: August 15, 2023
CostOwl.com note: Need a medical software solution at an affordable price? Fill out the 30 second questionnaire below and our medical software partners will send you free price quotes.
Summary: Orthopedic Medical Billing Service Cost: #
Medical billing companies typically charge a percentage of collections, with rates averaging between 2% and 8%, but the range can extend from 4% to 12%; alternatively, some companies offer flat fees per claim ranging from $1 to $8, averaging around $4 to $6 per claim, along with potential one-time setup fees averaging between $150 and $300.
Medical billing is complex and time-consuming, taking up time that healthcare professionals could be spending with patients. This is especially true for orthopedic medical billing, as specialties only increase the complexity of the billing process. That is why many orthopedic practices turn to outsourcing their medical billing to a professional service.
What Is Orthopedic Medical Billing? #
Orthopedic medical billing is similar to other forms of medical billing, but typically offers more services. This is because orthopedic medical billing is a bit more complicated and involves understanding a whole new level of complexity when it comes to billing codes. When you outsource to an orthopedic billing service, not only is the stress and time of the billing process assumed by trained professionals, those professionals know how to discuss common and confusing billing scenarios with patients.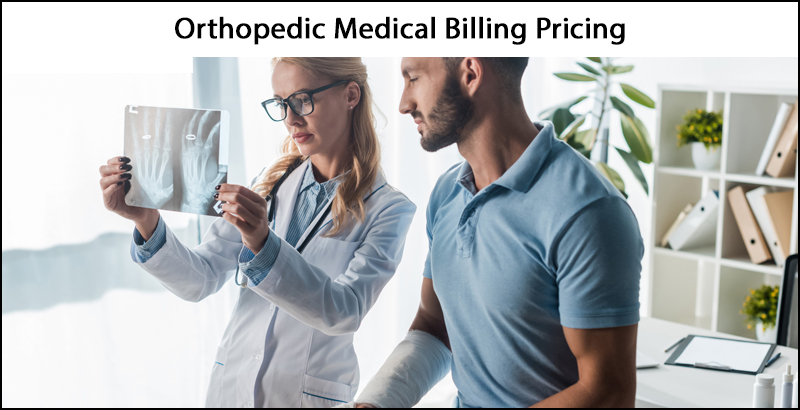 What Do Orthopedic Medical Billing Services Offer? #
An orthopedic billing service is more than just a billing company; it is a solution that allows you to grow and protect your practice and its profits.
A billing service ensures accurate payment and keeps you up-to-date with the latest regulations and specifications of the industry. The goal of a medical billing service is to put your billing processes in the hands of experienced, trained professionals and optimize your revenue. Orthopedic medical billing companies reduce compliance risk by focusing on accurate billing codes and procedures, which also reduces the odds of rejected or suspended claims.
Orthopedic Medical Billing Services and Claims Denials #
As stated above, one of the primary functions of an orthopedic medical billing service is to ensure your claims are accurate and approved in a timely manner.
Claim denial is an issue in every specialty across the medical industry, and a medical billing service helps to combat this. Some of the ways medical billing companies help protect against claim denial include:
Codes and modifiers: Orthopedic billing companies make sure that all coding and modifiers used are compliant with current regulations and standards, as well as accurate to the claim that they are attached to. Incorrect codes and modifiers send a claim straight to denial, which is why billing services diligently check each and every one.
Demographics: Incorrect demographics are one of the primary causes of claim denial in orthopedics. Missing or incorrect addresses, dates, names, or social security numbers all but ensure that the claim will be denied. Orthopedic medical billing services thoroughly check every claim to verify that all necessary information is present and correct.
Insurance verification: Verifying the insurance of your patients (both new and returning) is mandatory for any and all healthcare facilities. Billing services verify patient insurance coverage and ensure that all patients pay the correct copay as stated by their policy guidelines.
Local coverage determinations: In addition to industry rules and regulations, you need to comply with local standards for insurance companies. A billing service stays on top of the local coverage provided by a carrier, making sure that everything is on the level.
If the medical billing service you select does not focus or specialize in orthopedic medical billing, find another one. There are similarities between standard medical billing and orthopedic medical billing, but there are also many differences. Orthopedic medical billing is too complicated to risk going with a service that does not fully understand your specialty.
How Much Do Orthopedic Medical Billing Services Cost? #
To provide an exact cost for orthopedic medical billing is difficult, as prices are based on the size of your practice, the number of claims you process, the company you choose, and that company's method of charging. Here is a pricing guide to give you a general idea of what you can expect to pay for your orthopedic medical billing services:
Most medical billing companies collect their fees by charging a percentage of collections. Rates average between 2% and 8%, but that range can be as wide as 4% to 12%.
Some medical billing companies charge a flat fee per claim. Fees range between $1 and $8 per claim, but the average practice pays between $4 and $6 per claim. Be sure to ask if inpatient and outpatient claims are separate costs.
You may also have a one-time setup fee, which averages between $150 and $300.
Watch: Answers to Your Top 10 Ortho Billing and Coding Questions #
Watch this video to get answers to some common Orthopedic billing and coding questions.
Resources:
Use Our Free Service and Find Medical Billing Service Companies Near You #