Browse all articles for: EMR
Navigate the EMR Software Mandate with These Expert Tips
Last Updated: January 05, 2023
CostOwl.com note: Need an EMR software solution at an affordable price? Fill out the 30 second questionnaire below and our EMR software partners will send you free price quotes.
What You Need to Know About the EMR Mandate #
Electronic medical records (EMR) are necessary to properly manage a patient's medical history and treatment, but they present unique security issues. The federal government's EMR Mandate places stringent guidelines on healthcare providers on the creation, management, and security of patient records. To continue receiving their current levels of Medicare reimbursement, every healthcare facility must follow the guidelines of the EMR Mandate.
Pros of the EMR Mandate #
The main reason for the EMR mandate is to help the healthcare industry achieve several critical standards. Meaningful use of electronic medical records is required in order to:
Help improve safety, efficiency, and quality or care while minimizing health disparities. Thanks to the efficient categorization of patient conditions and records, it has become incredibly easy to diagnose illness and figure out the progress accurately, which has decreased morbidity and mortality.
Security and privacy of patient health history or information is maintained. The mandate ensures no compromise on patient privacy, a vital part of health care.
To ensure that there is improvement in care coordination, population, and public health. EMR merges healthcare and information technology to improve the health of patients. Healthcare professionals with the knowledge and skills necessary to implement, develop, and manage it are in high demand across the sector.
All these advantages point towards the authentic and proper use of electronic medical record software. After all, everything can be misused. The mandate minimizes the possibility of this happening. This helps enforce the oath that all medical professionals take before becoming a registered medical practitioner. Thanks to the EMR mandate, more and more healthcare facilities have started using EMR software, making their services more efficient and productive. On 28th June, 2012, the United States Supreme Court made EMR software mandatory for practitioners by 2014. This is part of the PPAC. According to this program, medical institutes are eligible for certain funds to set up their EMR, the service being valid for the next 10 years. This was done to ensure that all services will ultimately implement EMR software. Some services that meet federal requirements are able to get up to $44,000. Other services, especially those that provide their services where healthcare provision is scarce, can get funds in excess of $44,000.
Of course, the government won't just give institutions these funds without proper checkups. This is why the government has certain requirements that it needs you to meet. For instance, the government set specific formats for medical billing, patient history, and employee communication. There are a number of questions regarding the implementation of this new law. However, the best way to resolve them is by actually contacting lawyers and getting your doubts settled.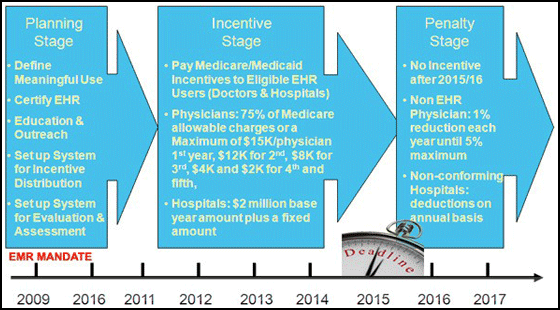 Points to Consider before Implementing the EMR Mandate #
EMR meaningful use: Healthcare providers must provide meaningful use of electronic health records (EHR) before implementing EMR. This is because EHR is more comprehensive than EMR since it contains patient medical health records.
Knowledge in information technology: Healthcare providers must possess knowledge and skills in information technology in order to make it easier for them to implement the EMR mandate.
Health informatics: Certification in health informatics helps ensure providers understand new technologies introduced into the healthcare industry. This is a new discipline, offered by some online universities.
The Cost of Implementing the EMR Mandate #
It can be quite expensive to implement the EMR mandate, since it requires all private and public healthcare providers, including other eligible professionals, to adopt and demonstrate meaningful use of EMR in order to retain their existing Medicare and Medicaid reimbursement levels. This could mean that healthcare professionals would have to get the necessary training in health informatics, which can be quite expensive since this is such a new discipline in the medical field.
Implementing the EMR mandate would mean that both private and public healthcare facilities would have to employ more people, including health information or medical records technicians, computer support specialists, computer systems managers, and health or medical managers. This would mean that there would be increased labor in the healthcare industry, an aspect that is always costly across all sectors of the economy. Apart from this, implementing the EMR mandate would also mean that health care providers would have to buy the necessary IT equipment including computers, servers, and the EMR software, as well as equipment needed to install and use the EMR software. Then again, if you follow the protocol and fulfill government requirements, you may be liable for certain funds that can help compensate for the cost.
Resources:
Use Our Free Service and Get Free EMR Software Pricing #