Browse all articles for: Employee Benefits
How Much Does a Employee Simple IRA Plan Cost to Set Up?
Last Updated: April 26, 2023
Reviewed By: Ashley Smith
On This Page
CostOwl.com note: Need an employee retirement plan at an affordable price? Fill out the 30 second questionnaire below and our employee retirement plan partners will send you free price quotes.
Simple IRAs were designed with small businesses in mind. They allow you to provide a retirement plan for your employees without the expensive administrative fees that come with other types of employee retirement plans.
Businesses with fewer than 100 employees (making $5,000 or more annually) are eligible for simple IRAs. The setup process is simple as the name suggests. There are little or no upfront expenses to pay.
Unlike other types of retirement plans, all eligible employees are required to participate. If they don't enroll, you are required to open an account on their behalf and contribute 2 percent of their annual salary. For employees that do choose to enroll, you are required to match their contributions up to 3 percent of their annual salary or $14,000 - whichever is less.
Simple IRA Average Fees #
Simple IRAs come with relatively small administrative expenses for the employer. They usually have an annual maintenance fee of $10 to $25 per participating employee. Most providers won't charge a setup fee.
Fidelity Investments: There is no fee to open or manage a Fidelity Simple IRA. Funds held in your account may be subject to trading fees.
T. Rowe Price charges a $20 annual fee for each account with a balance less than $10,000. That fee can be waived under several circumstances, including if you elect for electronic statements instead of paper or maintain a combined balance of $50,000 or more.
Wells Fargo's annual fee is $30 per account. But, the fee is waived for accounts with a balance of $10,000 or more.
Many companies also charge a fee when an account is closed. Budget about $20 extra for the time when an employee closes the account or transfers it to another provider.
Cost is an important consideration when choosing a Simple IRA provider, but you shouldn't base the decision solely on price. You want to select a company that is accessible when you or your employees have questions and one that has a long history of successfully managing mutual fund accounts.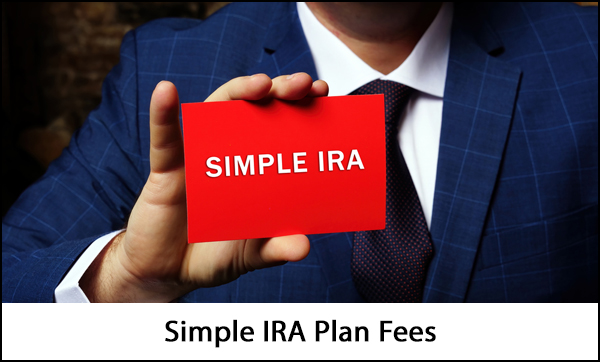 Simple IRAs vs. Simple 401Ks #
If you're a small business owner, chances are you're looking at both Simple IRAs and Simple 401Ks. The two are very similar. But, there are some minor differences that might influence which one you choose.
Both are only available to companies with fewer than 100 employees. The plans require the same level of contributions from employers. And with both, all contributions are 100 percent vested when they are placed in the fund, meaning the money belongs to the employees immediately.
Among the major differences:
Simple IRAs don't allow employees to take out loans, while 401Ks do;
Simple IRAs don't allow an employer to maintain any other sort of retirement plan, while simple 401Ks have no such restrictions.
With a simple 401K, employees must be 21 years old and have completed one year of service to be eligible. No such restrictions are placed on simple IRAs.
Simple 401Ks cap the level of compensation that a company must match at $305,000. This means high-salaried employees will be able to contribute less than they would with a simple IRA.
Simple 401Ks are slightly more expensive, costing an average of $400 to $1,000 per year.
Both plans are great for small business. It's up to you to decide which is right for your company. If you want employees to have the option of taking out loans against their retirement account or you already have another retirement plan in place, a simple 401(k) is a better fit. However, if you're looking for a plan with lower annual fees and fewer eligibility restrictions, a simple IRA is the best option.
Watch: Simple IRA Pros and Cons #
Watch this video that outlines the pros and cons of a SIMPLE IRA.
Resources:
Use Our Free Service and Find Simple IRA Companies Near You #