Browse all articles for: Copiers & Printers
Ricoh Copiers: Balancing Cost and Quality for Your Printing Needs
Last Updated: September 21, 2023
CostOwl.com note: Need an office copier at an affordable price? Fill out the 30 second questionnaire below and our office copier partners will send you free price quotes.
About Ricoh Copiers and Printers #
Ricoh Company, Ltd. is a leading provider of office technology best known for its document imaging equipment, especially its Aficio product lineup. Ricoh digital photocopiers and multifunction office systems are designed with cutting edge technology to be durable, productive, and cost-effective. Ricoh Aficio copiers offer copying speeds of up to 70 color pages per minute (ppm) and 75 black and white ppm, while its document scanners can perform at speeds of up to 69 color images per minute (ipm) and 81 black and white ipm. This level of performance can meet the needs of all types of enterprises, from small businesses to large corporations. In an effort to help you choose a Ricoh copier that fits your office's needs and budget this buying guide explores the benefits of digital copiers and provides basic pricing information.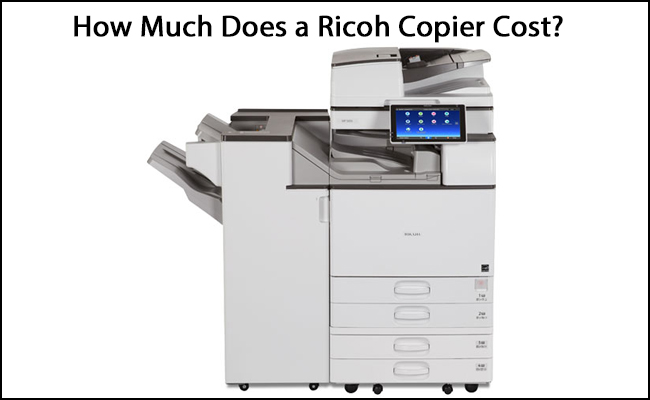 Pricing for Top Ricoh Copier Models #
| Model | Description | Price |
| --- | --- | --- |
| IM C2500 | B&W Copier, 25 ppm | $2,300 |
| IM C3000 | B&W Copier, 30 ppm | $3,200 |
| IM C4500 | B&W Copier, 45 ppm | $4,500 |
| IM C6000 | B&W Copier, 60 ppm | $6,500 |
| MP C3003 | Color MFP, 30 ppm | $4,800 |
Light production models from $20,000 - $30,000. High-end production color presses up to $120,000+.
Ricoh Copier Purchase Examples #
We contacted several businesses who purchased a Ricoh copier and found out how much they paid.
A law firm with 10 attorneys purchased a black & white Ricoh IM C4500 for $4,200 to handle high volume copying and scanning of legal documents.

An accounting office with 4 staff bought a Ricoh MP C3003 color multifunction copier for $4,500 to print reports and client presentations.

A medical clinic with 2 doctors purchased a Ricoh IM C3000 for $2,800 for a fast and reliable black & white copier to print patient records.

A small graphic design studio got a feature-rich Ricoh MP C4503 color copier for $6,800 to print brochures, flyers and client proposals.

A non-profit organization with 5 employees bought a budget-friendly refurbished Ricoh IM C2800 for $1,200 for basic black & white copying and printing.

A real estate office with 25 agents purchased a high-speed Ricoh MP C5503 color multifunction device for $9,200 to copy listing flyers and scan contracts quickly.

An engineering firm with 15 employees bought two affordable Ricoh IM C2500 copiers at $2,000 each for their two office locations.
Typical purchase prices range from $2,000 for basic models up to $10,000 for multifunction color copiers and $25,000+ for production printers.
Used Ricoh Copier Average Prices #
Basic B&W Copiers
10-20 ppm speeds: $300 - $700
21-30 ppm speeds: $500 - $1,200
Multifunction B&W Copiers
25-35 ppm speeds: $800 - $1,500
36-50 ppm speeds: $1,200 - $2,500
Color Copiers
20-30 ppm speeds: $1,500 - $3,000
31-40 ppm speeds: $2,500 - $4,500
High-Volume B&W Copiers
40-60 ppm speeds: $2,000 - $5,000
Light Production B&W Printers
50-70 ppm speeds: $3,500 - $7,500
Light Production Color Printers
50-70 ppm speeds: $5,000 - $10,000
Pricing depends on age, print volumes, maintenance, features and condition. Buying used can save 50% or more vs. new models.
How a Ricoh Copier Can Benefit Your Office #
Comparing modern digital copiers to their analog predecessors is like comparing today's smart phones to early mobile devices. Analog copiers can only do one thing, reproduce documents, while multifunction digital copiers can perform the work of a copier, scanner, network printer, and fax machine all in one compact design. Even basic Ricoh copy machines can perform advanced one-touch functions such as making booklets and stapling documents, significantly cutting down the time workers spend on routine office tasks. The other advantages of using Ricoh digital copiers for your business include:
Digital copiers do not break down as often. Few things are a greater snag to office production than a malfunctioning copier.
Digital copiers are very quiet, thereby reducing office noise and distractions.
Digital copiers have superior image quality, especially when reproducing colors, fine lines, and photographs. With a digital copier, you can make professional grade documents that will wow investors, customers, and other important contacts.
Digital copiers are more efficient. Unlike analog copiers that required you to scan a document every time you want copies, you can save a scanned image in a digital copier's memory and reproduce it quickly and easily whenever you want. Ricoh digital copiers also have features such as bin-free sorting that allows you to produce unlimited sets in a single tray instead of limiting your sets by the number of available bins.
Watch: Ricoh Copier Presets #
Watch this video to learn about the presets on a Ricoh copier.
Resources
Use Our Free Service and Find Copier Dealers Near You #