Browse all articles for: Copiers & Printers
Cost of Konica Minolta Copiers/Printers: An In-Depth Guide
Last Updated: September 21, 2023
CostOwl.com note: Need an office copier at an affordable price? Fill out the 30 second questionnaire below and our office copier partners will send you free price quotes.
Summary: Konica Minolta Copier/Printer Price #
Most small/medium businesses can purchase a suitable bizhub copier from Konica Minolta in the $3,000 - $10,000 range. For large businesses with very high volume printing needs, a high end Konica Minolta printer/copier can cost as much as $40,000 or more.
About Konica Minolta Multifunction Printers #
The Konica Minolta lineup of Multifunction Printers (MFPs) consists of machines that can take care of all of your copying and printing needs—and then some. The company's office and production printer systems, including its bizhub color MFPs, bizhub black & white MFPs, and bizhub PRO systems have received numerous awards, including being named "Line of the Year" by BLI in 2021, a Reader's Choice Award winner by BERTL in multiple categories, and the Brand Keys Customer Loyalty Engagement Index winner for 15 consecutive years. No matter what size your business is, there's a Konica Minolta copier that can help you create stunning documents and boost office productivity. Below you will find more information about the feature-packed Konica Minolta copiers along with general pricing information.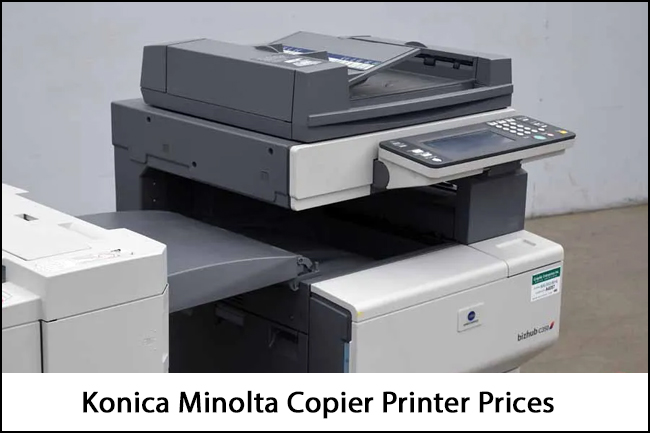 Top Konica Minolta Copiers Average Costs #
If you're ready to make a Konica Minolta copier the newest addition to your office, the pricing information below should give you a better idea of how much you'll spend. Here are some of the top Konica Minolta bizhub copier models and their typical purchase prices:
| Model | Description | Price |
| --- | --- | --- |
| bizhub C250i | B&W Print/Copy/Scan, 25ppm | $3,495 |
| bizhub C258 | B&W Multifunction, 25ppm | $5,995 |
| bizhub C287 | B&W Multifunction, 28ppm | $4,500 |
| bizhub C360i | Color Multifunction, 36ppm | $7,295 |
| bizhub C458 | Color Multifunction, 45ppm | $12,325 |
Light production models from $20,000 - $60,000. High-end production presses up to $200,000+.
Real Life Konica Minolta Copier Purchase Examples #
We called several businesses who recently purchased Konica Minolta copiers for their businesses and found out how much they paid:
Real estate office with 25 agents purchased a bizhub C458 for $12,000 to handle printing brochures, flyers, and scanning contracts.

Accounting firm with 15 employees bought a bizhub C287 for $4,500 for high black & white print volumes and fast 28ppm print speed.

Small marketing agency with 10 employees purchased a bizhub C258 for $6,000 to utilize its color printing, scanning and fax capabilities.

Medical clinic with 5 physicians purchased a bizhub C360i for $7,300 to print patient records securely while benefitting from its compact footprint.

Legal office with 10 staff bought a feature-rich bizhub C3851FS for $9,200 to handle heavy printing, copying, faxing and scanning needs.

Insurance agency with 20 agents purchased two bizhub 224e models at $2,500 each, attracted by their low cost 22ppm printing and energy efficiency.

Non-profit organization with 30 employees bought a refurbished bizhub C554 for $3,800 to affordably print flyers, newsletters and brochures in-house.
Prices vary based on models, features and dealer discounts but most small/medium businesses can purchase a suitable bizhub copier from Konica Minolta in the $3,000 - $10,000 range.
Konica Minolta Copier Average Lease Rates #
| Model | 36 Month Lease | 48 Month Lease | 60 Month Lease |
| --- | --- | --- | --- |
| bizhub C250i | $59/month | $49/month | - |
| bizhub C258 | $85/month | $69/month | $59/month |
| bizhub C287 | $79/month | $59/month | - |
| bizhub C360i | $129/month | $99/month | - |
| bizhub C458 | - | $255/month | $189/month |
Typical office copier lease terms range 36-60 months. Leasing offers predictable budgeting but higher long term costs.
Real Life Konica Minolta Copier Lease Examples #
We asked businesses who decided to lease a copier how much they paid:
A law firm leased a bizhub C3351 for $289 per month over 48 months. This model provided speed, security and finishing capabilities their high volume practice required.

A marketing company leased two bizhub C287 copiers for their office at $79 per month each with a 36 month term. These affordable B&W models met their basic printing and scanning needs.

An engineering firm leased a more advanced bizhub C458 for $372 per month over 60 months. They utilized the color printing and fast speed for large project documents.

A non-profit organization leased a refurbished bizhub C554 for just $119 per month over a 24 month term which fit their budgetary constraints.

A medical clinic leased a bizhub C360i for $129 per month over 36 months to securely print and copy patient records while taking up minimal space.

A real estate office leased two entry level bizhub 277 copiers for $49 per month each over 48 months. These provided cost-effective black & white document handling.

An accounting firm leased a 65ppm bizhub C658 for $1,025 per month over a 48 month term to quickly produce client reports and tax documents.
Reasons to Buy a Konica Minolta Copier #
There's a good reason why Konica Minolta copiers are some of the most awarded imaging technology machines on the market—there are many reasons, in fact, including the following:
One machine, many functions: A Konica Minolta copier is the only office machine your company will need. Save valuable workspace by using a powerful, reliable Konica Minolta MFP that can copy, print, scan and fax.
Huge product selection: Minolta copiers are able to meet the needs of any business. Its black and white MFPs can handle monthly page volumes from 16,000-300,000 pages at speeds ranging from 16 pages per minute (ppm) to 75 ppm. Konica Minolta color MFPs can take on monthly volumes of 60,000-250,000 pages and print in color at 22-50 ppm. Its bizhub PRO lineups are even more impressive, able to print up to 5,000,000 pages per month at speeds of up to 150 ppm.
Leading the way in technology: Many Konica Minolta copiers are compatible with the company's PageScopeMobile application that connects bizhub MFPs with your iPad, iPhone and iPod Touch. This cutting edge technology, available for free from the Apple App store, lets you print scanned data and other files, receive scanned data, and more from your Apple mobile device. And you can be sure that the network data on your Konica Minolta copier/MFP is well-protected, as the company's products meet internationally recognized IT security testing standards.
Committed to the environment: Konica Minolta is dedicated to a protecting the planet and lowering greenhouse gas emissions. The company is actively involved in recycling its imaging products and accessories in addition to creating products that are Energy Star rated and leave a minimal eco footprint.
Watch: Why I Bought a Konica Minolta Printer/Copier #
Watch this video to learn about the benefits of buying a Konica Minolta copier.
Resources:
Use Our Free Service and Find Copier Dealers Near You #