Browse all articles for: Copiers & Printers
Save Money on Your Business Printing Needs: Learn about Canon Copier Pricing
Last Updated: January 31, 2023
CostOwl.com note: Need an office copier at an affordable price? Fill out the 30 second questionnaire below and our office copier partners will send you free price quotes.
Summary: Canon Copier Prices #
Expect to pay $4,000 to $10,000 on average for an imageRunner Canon copier for your business.
About Canon Copiers #
When most people think of Canon they think of cameras. However, Canon's largest revenue generator is the photocopier! Since 1985, Canon has been the world's leading digital copier company. They have been a pioneer in this industry as many advancements and changes in the copier were invented by Canon. In fact, Canon was the company that invented the color copier! They are also known for creating small local copier dealerships with intimate service, a very successful marketing tactic. This has allowed them to hold the largest market share in this area for 26 out of the last 27 years. Canon manufactures the popular ImageRunner series of copiers offering 122 different models.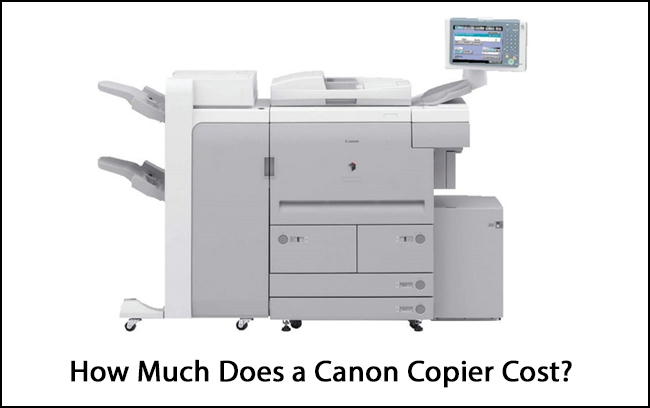 Canon Copier Sample Prices #
While it's always best to get multiple price quotes from local dealers, we have provided some sample Canon photocopier costs below. Keep in mind that these are only estimates and there may be additional fees for delivery, set-up, and maintenance.
A New Canon imageRUNNER ADVANCE DX C5860i Color Copier with print speeds of 60 pages per minute costs $11,200.
A New Canon imageRUNNER ADVANCE C7270 Color Laser MFP with print speeds of 70 ppm BLACK and 60 ppm COLOR costs $8,800.
A New Canon imageRUNNER ADVANCE DX C357iF Color Laser MFP with print speeds of 36 ppm color and black costs $3,400.
The Canon ImageRunner 7086 copier has features such as 86 page per minute printing, hole punching, paper folding, booklet finishing and is Internet ready. This copier is meant for busy corporations to use as a complete document publishing hub. This copier costs anywhere from $19,000 to $29,000 new and as little as $6,500 used. To lease this machine it costs approximately $600 monthly.
The Canon ImageRunner C5185i is a discontinued color copier, network printer and scanner. It will output 86 copies per minute. Other features include double sided scanning and copying. A new ImageRunner C5185i costs from $15,000 to $25,000 new and for a refurbished version you are looking at $10,000 to $13,000. You can lease this copier for $616 per month.
A Refurbished Canon ImageRunner 5065 is optimal for large to mid-sized businesses offering 65 ppm. It boasts a high capacity paper supply and advanced finishing options. It is known for its reliability. You can buy this used Canon copier for $4,300. Monthly you can pay $450 for leasing.
The Canon ImageRunner C3200 is the standard for general office-color multifunctional devices. This machine has a compact design but can produce speeds of 32 pages per minute. This copier costs about $5,900 refurbished.
The Canon ImageRunner 1025IF is the ideal copier for a small business. This copier is an all-in-one machine that handles up to 5,000 copies a month. This is a copier, fax machine, scanner and printer in one small compact unit. The price is small as well at about $699 for a new unit. You can lease this copier for $30 per month.
Watch: Comparing Canon Copiers: C7500 vs C165 vs C910 Series #
Watch this video to learn about the top Canon printers on the market in 2023.
Resources:
Use Our Free Service and Find Copier Dealers Near You #