Browse all articles for: Access Control
Understand the Pricing of Johnson Controls (Formally Tyco) Access Control Services
Last Updated: May 09, 2023
CostOwl.com note: Need access control at an affordable price? Fill out the 30 second questionnaire below and our access control partners will send you free price quotes.
Introduction #
Johnson Controls (Formally Tyco) Access Control System offers smart ways to protect and secure data, property and staff. The comprehensive solutions by Johnson Controls provide security services essential for running business efficiently. Streamline security and safety solutions in a business premises play an integral role for its progress and growth. Johnson Controls promises to deliver customized security solution to small, medium and large businesses, retails chains, organizations and warehouses and so on. The access control systems are integrated with latest technology, state of the art equipment, installation, upgrade and maintenance for Johnson Controls customers.
Johnson Controls Access Control System Prices #
Johnson Controls (Formally Tyco) access control system prices are based on size and they vary from business to business and industry to industry. The upfront costs for installation, activation and equipment vary and prices are flexible. Average cost for installing an access control system may start from $1,500 and go up to $3,000 for a medium sized enterprise with 100-150 staff members. The cost will run upwards up to $4,000 for a larger company with 250-300+ employees. Large corporation campuses, warehouse networks can expect to pay $10,000 and above for multi-site and multi-door access control solutions.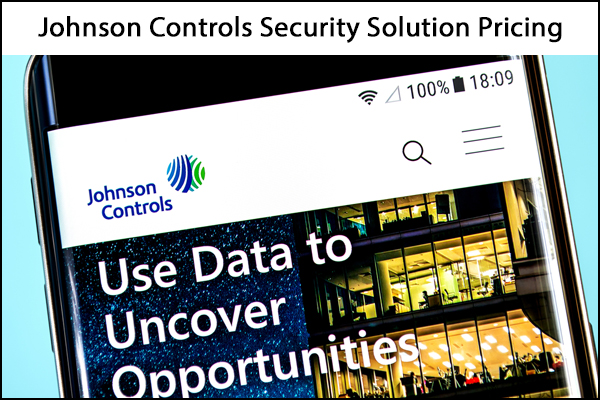 Johnson Controls Access Control System Key Benefits #
Fully customized security solution and access control
Remote administration
Access control systems for multiple facilities
Centralized lock-down solution and synchronization is available
Choose from basic solutions for small scale businesses to multi site and door installations PC based access control systems
Easy to deploy, innovative and cost effective security solution includes fire alarms, intruder alarms, door access control and video surveillance systems
Helps in increasing the efficiency and productivity through advanced features
Cost effective fully integrated security solutions provides complete access control to allow and restrict staff, unwanted visitors for maximum safety and protection of valuables, documents and human lives.
The customers are provided a central control and command solution to manage intrusion, limited entry and monitor with the help of CCTV, security doors, fire and intruder alarms in the facility. Large organizations, warehouse networks and corporate campuses can integrate different security systems and control globally or from a centralized location.
Watch: Johnson Controls - Frictionless Access Control #
Watch this video to review Johnson Controls portfolio of Access Control options.
Johnson Controls Access Control System Features #
Biometric Identification
Entry into the building is allowed after verifying physical attributes of a visitor. The fingerprint scanner allows only authorized personnel to enter restricted and sensitive areas. Biometric identification and verification include face, fingerprints and iris identifications.
Card Reader
Card readers are one of those security measures used for meeting areas outside the office, at conference halls and emergency checkpoints.
Visitors and staff management
Johnson Controls provides easy solution for monitoring and tracking the staff movement and visitors entrance into the building or highly sensitive areas.
Johnson Controls Security Solutions #
Tyco offers many different types of basic and advanced security solutions such as:
Kantech
Kantech, a user friendly platform for providing integrated security to small businesses include intruder alarms, video monitoring and access control solutions.
Siteguard Access System
Tyco provides PC based standalone single door access control system to large multi-site security systems. SGA provides security and control to multi-users, different sized applications and buildings.
C•CURE 800
A Single security platform with video monitoring, RFID Asset, Photo Imaging and Paging management solutions.
C•CURE 9000 Site Server
Ready-to-use, scalable and easy to setup and install cost-effective solution for small to medium sized enterprises.
C•CURE 9000 Enterprise
Integrated security systems with IT tools provides a high level of security according to the enterprise size, needs and requirement.
Resources:
Use Our Free Service and Find Access Control Companies #