Browse all articles for: Access Control
CPI Access Control: How to Calculate the Cost of Your System
Last Updated: May 09, 2023
CostOwl.com note: Need security at an affordable price? Fill out the 30 second questionnaire below and our video surveillance partners will send you free price quotes.
About CPI Security #
CPI Security have served the Georgia, North and South Carolina regions for thirty eight years. The company has been awarded an A rating by the BBB and offers state of the art home security and access control systems to their clients. CPI offers a 5 year long contract that varies in pricing according to the packages and demand of the customers. The company uses latest 2GIG technology for the purpose of home security and safety. The inTouch System provides all kinds of products such as close circuit cameras with night vision, remote controlled thermostat, door locks, fire alarms and motion detectors. CPI provides their customers free apps for tablet and smart phone users.
CPI Security Pricing #
CPI security services price per month starts at $29.99. There is $499 upfront cost for installation, activation and equipment. Renters are supposed to pay $299 as the installation fee, Depending on how much security is needed to be installed, such as motion detectors, infrared and ordinary video cameras, plus customization of your business or home will add to this quite considerably if you have a huge house that you want fully covered. Prices are also subjected to change.
There are two different options for contract between the CPI company and the customers.
5-year long contract at fixed price per month
39-month contract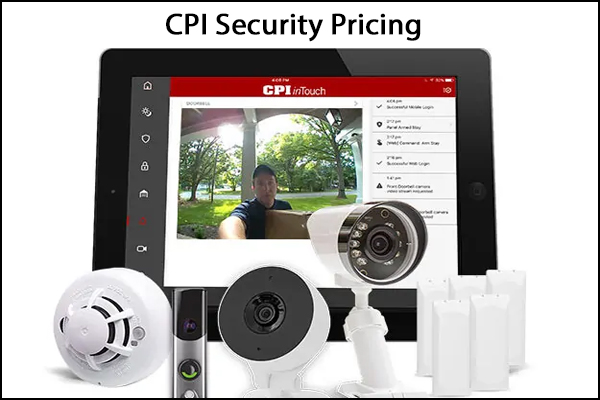 Benefits of CPI Access Control System #
24 hour monitoring
Real Time Response System
Quick notifications to security professionals upon alarm activation
Easy to set alarm system on digital LCD keypads
Monitoring the home remotely with the help of smart phone and other internet enabled devices
Activate or deactivate alarms from anywhere
Follow up with text notifications, emails and updating any changes in the security code
Video monitoring allows the users to view all activities at home remotely on their smart phone
Temperature setting and light on/off remotely are some of the main features of Home Automation package
Watch: My CPI gives me Smarter Security (2021) #
Watch the latest CPI Security commercial.
Points to Consider #
The customers not comfortable with 5 year long contract should go for other options.
It is important to  understand that there is a huge fee applied on terminating the contract with the company that is about 75% of total contract balance amount.
The company provides limited customer support and according to complaints at Better Business Bureau, the support staff does not satisfy entirely.
If the customer is moving to another area or city, then they should check as to the availability of CPI company services there.
CPI Access Control System Features #
Users can control the entry into the workplace or building with the help of access cards. The CPI company offers access cards and access readers. When the access points of the building are easily operated, the safety of employees and the assets is protected as well. Important features of Access control system are mentioned below:
Guaranteed safe environment for employees and customers
System design decreases  threats to security, restricts and controls access inside the building and high security areas.
Access cards can be printed directly with a printer
Access reader with LED status monitor and buzzer is weather resistant
Resources:
Use Our Free Service and Find Access Control Companies #