Browse all articles for: EMR
Diving into Chiropractic Billing: Costs, Services, and Benefits
Last Updated: September 20, 2023
Reviewed By: Alan Walker, CEO at Medical Billing Services LLC
On This Page
CostOwl.com note: Need a medical software solution at an affordable price? Fill out the 30 second questionnaire below and our medical software partners will send you free price quotes.
Summary: Chiropractic Billing Service Cost #
Many chiropractic billing services charge a monthly base fee (typically $200-$600/month) plus a percentage of collections, usually 3-7%. Full revenue cycle management averages $600-$1500/month.
With varying requirements for insurance carriers and regulations that change frequently, medical billing is an often confusing, always time-consuming task. To add to these challenges, chiropractic offices have highly specialized needs. Outsourcing the task to a chiropractic medical billing service helps you save money and time while typically leading to speedier turnaround on claims. In this piece, we describe what you can expect from professional chiropractic billing companies, including costs.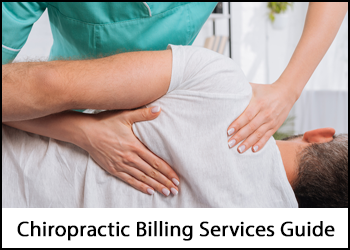 How Chiropractic Billing is Different #
Involves tracking recurring treatment visits over a period of care, not just one-time visits

Specialized billing codes for chiropractic procedures like manipulations, modalities, therapies

No prescription or ancillary billing, which simplifies but provides fewer revenue streams

Verifying chiropractic benefits/coverage is tricky due to variability in policies

Cannot bill globally upfront for entire course, each visit must be billed individually

Most visits paid by private/commercial insurance rather than Medicare/Medicaid

Workers compensation billing is common and has specialized rules

Higher patient responsibility amounts requiring more collections effort

More claim denials due to limits on number of covered visits per year
The recurring treatment model, specialized coding, insurance verification, and lack of ancillary services create unique chiropractic billing needs.
What Services Do Chiropractic Medical Billing Providers Offer? #
Services vary by the provider, but most chiropractic billing companies offer the following basic services:
Insurance eligibility verification - Checking patient coverage and benefits.

Claim submission - Submitting claims accurately and promptly to commercial, government payers.

Coding - Using proper CPT, ICD diagnosis codes for chiropractic services.

Reimbursement posting - Posting payments to patient accounts.

A/R follow up - Following up on unpaid, denied, or underpaid claims.

Appeals assistance - Appealing improper claim denials and underpayments.

Patient invoicing - Sending statements to patients for balances owed.

Patient payment processing - Managing patient payments and payment plans.

Reporting - Providing data on revenue, claims status, unpaid claims.

Credentialing - Enrolling with and maintaining contracts with payers.

Compliance - Ensuring adherence with regulations and payer policies.

Technology - Offering practice management and billing software/tools.
The right billing company handles the entire revenue cycle process end-to-end, maximizing claim reimbursement while reducing administrative burdens for the chiropractic practice.
Chiropractic Billing Costs and Fees #
Costs vary according to the level of services you choose, the billing company, and the amount you bill. Typically, medical billing companies charge based on a percentage of what they collect. This is preferred by many chiropractors, since it ensures you only paying for claims that have been paid. It also incentivizes the billing company to get your claims paid as quickly as possible.
Monthly base fee - Most charge a flat monthly base fee covering basic services like claim submission, payment posting, reporting. Ranges from ~$200 per month for solo practices up to $600+ for larger clinics.

Percentage of collections fee - Many billers charge a percentage commission on collections, usually between 3-7% of monthly claim revenue. This incentivizes maximizing reimbursement.

Tiered pricing plans - Some offer tiered plans at different price points based on services needed, such as basic billing vs full revenue cycle management. More services mean higher monthly costs.

Setup fees - One-time fees for implementation, training, and onboarding range from $200 for basic service to $2,000+ for enterprise installs.

Per claim fees - Some billers charge a small additional per claim fee, ranging from $1 to $5 per claim submitted. Not as common with chiropractic billing.

Value-added services - Extra services like credentialing, compliance audits, denial defense, EHR integrations may cost more.

Contract terms - Many require 6, 12 or 24 month contracts. Shorter terms usually mean higher monthly rates.

Hidden fees - Watch for things like statement or filing fees that drive up real costs.
Carefully evaluate full pricing details including the fine print to determine true overall costs.
Some services charge a higher rate, particularly if they specialize in a certain type of coding or collections, such as Medicare or other government-funded insurers. You want to know exactly what goes into the cost. For example, some billing companies charge extra to scrub and resubmit a rejected claim.
One of the most important questions to ask is whether there's a monthly minimum attached to the price quoted. It is not uncommon for billing companies to set monthly minimums so high that few practices could meet them. In these instances, that low rate is not a deal at all.
Top Chiropractic Billing Companies & Costs #
ChiroHealthUSA - Starts at $295/month + 3.5% of collections

CPM Medical Billing - $399/month base + 5% of collections, $599/month minimum

ChiroBiller - $199 to $599/month based on practice size

ChiroSuite - Custom pricing, starts at $599/month

Billing Precision - Starts at $625/month for full revenue cycle management

Code Based Billing - $600-$1000/month + 3-5% of collections

Total Billing Solutions - $350-$750/month, discounts on 6+ months

AdvanceMD - Packages starting at $199/month

Principle Billing - 5-7% of monthly collections
Chiropractic Billing Cost Examples #
Sole practitioner chiropractor with ~1,000 patients paid $350 per month for basic claims submission and payment posting.

Mid-sized chiropractic office with 3 doctors and ~6,000 patients paid $850 per month for full revenue cycle management including coding, billing, collections, and reporting.

Large chiropractic clinic with 5 doctors and 10,000 patients paid a billing service $1,200 per month. This included patient invoicing, insurance follow up, denial appeals, and EHR integration.

Multi-location chiropractic chain with 15 clinics paid $2,500 per month plus 5% of collections for complete billing services across all locations.

Newer chiropractor paid $150 per month for basic claims filing, benefits verification, and payment posting as they got established.

Advanced chiropractic clinic performing decompression therapy paid $750 per month for a billing company specializing in those reimbursements.
Prices vary based on size of practice, number of billing staff needed, and extent of services provided. But typical costs range from $150 - $600 monthly for solo practices, up to $2,000+ for large multi-location clinics.
What Are the Benefits of a Chiropractic Medical Billing Service? #
One of the greatest benefits of outsourcing your billing to a service is the savings of resources. The fees charged by these organizations are nearly always less expensive than the cost of salary, benefits, equipment, and billing software. And, the billing professionals are just that: professionals. Their entire job is medical billing. That means in-depth training and a job whose entire focus is submitting claims, both of which lead to fewer errors and increased collections. Outsourced billing also frees up your staff to focus on patient care and other tasks that require their expertise. And, billing pros stay up-to-date on the industry regulations and changes to codes that often lead to incorrect billing. That alone can seem like a full-time job sometimes.
Finally, claims are generally turned around more quickly, with payments occurring in the space of weeks (and sometimes days) instead of months. This is due in part to the heavier volume of claims that billing companies submit, which leads to most insurers prioritizing them.
Watch: Chiropractic Billing vs. Medical Billing #
Watch this video to learn the differences between Chiropractic billing and regular medical billing.
Chiropractic Billing Rules #
Chiropractic billing has intricacies around proper coding, utilization limits, credentials, and documentation that billing services must follow for optimal reimbursement.
Use specialized chiropractic CPT codes like 98940-98943 for spinal manipulations and therapies.

Select diagnosis codes that clearly reflect the medical necessity of care. Common ones include back pain, neck pain, muscle spasms.

Verify benefits and document pre-authorization or referrals if required by payer.

Bill evaluation and management codes for new patients and periodic re-evaluations.

Bill X-rays and ancillary services like supports and braces separately.

Follow payer limits on number of allowed visits per year which vary.

Append chiropractic modifiers like -AT for acute treatment.

Bill therapy modalities like heat and electric stimulation separately from manipulations.

Obtain treatment plans from chiropractor to support care.

Appeal denials for medically necessary care like MVA cases.

Use Place of Service Code 11 for services rendered in chiropractor's office.

Ensure proper provider credentials and enrollment with payers.

Collect upfront payment from patients for deductibles and copays.
Resources:
Use Our Free Service and Find Medical Billing Service Companies Near You #