Browse all articles for: Roofing
A Guide to Chimney Sweeping: Costs, Benefits and Find Out If Your Chimney Needs Cleaning
Last Updated: January 03, 2023
On This Page
When you burn wood in your fireplace or woodstove, it leaves behind ash and carbon residue (creosote) that needs to be cleaned out. You may need to have this service performed every year if you use your fireplace often (four or more times per week), or even twice a year if you burn green wood. If you only use your fireplace once or twice a week in the winter, you may be able to go two or three years without having it done. Foregoing a chimney cleaning altogether, however, is simply not an option. In this buying guide you'll learn the importance of chimney sweeping in addition to the cost of a chimney sweep.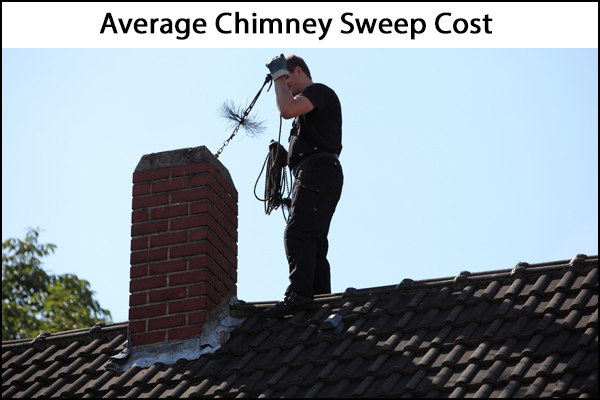 Summary: Chimney Sweep Average Costs #
The average cost to have your chimney sweep is $250. Please note that your actual chimney sweeping cost may vary depending on your location, the time of year, the amount of creosote build-up, and other factors.
Chimney cleaning costs on average $150 to $300.
A chimney inspection, an assessment of how close you are to needing a cleaning and whether your chimney needs repairs, might cost $45 to $85.
While most new chimneys have a chimney liner, a surface made from metal, tile, or cement that provides extra protection against chimney fires, if you don't have one, or the existing liner needs to be replaced, this could cost as much as $2,000 or more.
A new chimney cap, placed on top of a chimney to keep animals and debris from entering, might cost $150 to $300.
Chimney Sweeping: An Overview #
Chimney sweeps, the professionals who perform chimney cleanings, nowadays use a vacuum pump and other modern tools that make the job relatively clean and simple. It wasn't always that how, however. During the days of the industrial revolution, when residential chimneys grew in popularity, chimney sweeps were often young boys who could more easily fit into narrow spaces. Using only brushes, subjected to carcinogenic dust and life-threatening falls, the life of a chimney sweep was dirty and dangerous.
While the nature of chimney sweeping has changed, the necessity of it hasn't. The reasons why you must have your chimney regularly cleaned include the following:
Protect Your Family: When creosote buildup exceeds 1/8 inch, it begins to pose serious hazards. Because it is flammable, it presents a risk of fire. And chimney fires aren't ordinary fires. Burning hot and fast, they can quickly spread to the rest of the home. Creosote blockage additionally reduces the airflow in your chimney, which can cause deadly carbon monoxide to remain in your home. This can also happen if there are chimney leaks.
Save Money: Preventing chimney fires and carbon monoxide poisoning are reason enough to schedule an appointment with a local chimney sweeper. But if you still aren't convinced, consider that the relatively low cost of a chimney sweep can help keep your heating system operating more efficiently, and therefore cheaply. A sweep will also identify small issues, such as damaged dampers, broken doors, or masonry cracks, before they require major, and majorly expensive, repairs. Finally, compared to the cost of a fire-damaged home, the little bit of money you spend on a chimney sweep is a real bargain.
Average Chimney Sweep Prices By Location (Updated for 2023): #
| City or State | Zip Code | Average Price Paid |
| --- | --- | --- |
| Spokane, WA | 99205 | $208 |
| Worcester, MA | 01604 | $443 |
| Syracuse, NY | 13210 | $203 |
| Albany, NY | 12208 | $305 |
| Philadelphia, PA | 19019 | $363 |
| Boise, ID | 83709 | $120 |
| Grand Rapids, MI | 49504 | $174 |
Video: How to Know if you Need a Chimney Cleaning #
Watch the video below to learn about how you know when you need a chimney sweep:
Resources:
Use Our Free Service and Find Chimney Sweep Companies Near You #