Browse all articles for: EMR
Kareo EMR Software: A Cost-Effective Solution for Your Practice
Last Updated: January 05, 2023
CostOwl.com note: Need an EMR software solution at an affordable price? Fill out the 30 second questionnaire below and our EMR software partners will send you free price quotes.
Summary: Kareo Pricing #
Kareo subscription based medical software costs between $87.50 and $500 per provider per month. A self hosted system will cost significantly more, up to $500k. Kareo medical billing services cost between 4% and 9% of the collections.
There are a lot of EMR software options circulating the market. With so many suggestions, how do you know which one is the best out there? If you have researched popular brands, you've likely heard of Kareo EMR, a fully electronic medical record system with an intuitive, simple interface. With Kareo, it's easy to find information, write notes, and navigate through the system.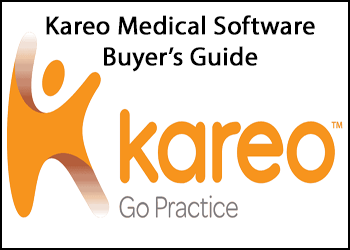 Healthcare providers can sign up for Kareo EMR quickly and easily, and may immediately begin implementation. In fact, it only takes 5 minutes to sign up and use Kareo EMR. This is a cloud-based software solution, which saves providers the cost of hosting and hardware. You can access the system from any connected device, including laptops and desktops, tablets, and smartphones. This instant access allows you to reference patient data any time of day and from any location with an Internet connection.
Points to Consider before Using the Kareo EMR System #
Help and Support: Talk to your Kareo vendor to determine the level of support your chosen package offers. Ideally, you want to be able to contact a Kareo agent 24/7 with any questions or concerns. You also want access to a variety of online resources so that you can answer questions without having to get on the phone or wait for an email response.
Training: Ask your vendor what type of training options they offer. The system is fairly intuitive, but your staff may still need some basic training. Your IT staff may also benefit from training. If they don't offer onsite training, ask about online options, such as manuals and webinars.
Flexibility: You want a flexible system that integrates with any documentation or workflow style.
Price comparison of Kareo EMR and Other Similar or Commercial EMRs #
Kareo EMR used to be free. However, with the development of its EMR system, the free software has been adjusted into its efficient plans. Unlike other EMR systems that are ad-supported, Kareo will not ask for a setup price. Instead, there is a subscription plan that you subscribe to for the different services. These plans then charge you on a monthly basis, which typically costs less than buying EMR software (due to licensing fees). Kareo EMR includes all of the features you would expect in a commercial EMR or a free ad-supported EMR.
The Kareo EMR software is customizable, including shortcuts, favorites, and templates. Doctors can schedule and view appointments, create and access patient data, keep track of their tasks, and conveniently send short messages to other doctors within the practice or network with a few clicks. All these features can go to as high as $50,000 per year per user with commercial EMRs. The web-based Kareo EMR software costs significantly less than traditional self-hosted solutions.
Monthly Kareo EMR subscriptions range between $87.50 and $500 per provider per month. There are no startup costs, you simply subscribe and are ready to begin using the software.
A Kareo EHR package ranges between $150 and $300 per month.
Kareo marketing services come at an addition cost of $150 to $300 per month.
Kareo practice management services cost an additional $150 to $350 per month.
Kareo medical billing services cost between 4% and 9% of the collections.
If you pay your subscription fee quarterly, you can get a 10% discount off the original price.
If you sign up simultaneously as multiple providers, you receive a discount off your total price.
Watch: Kareo Review - Top Features, Pros & Cons, and Alternatives #
Watch this video for all you need to know about Kareo medical software.
Resources:
Use Our Free Service and Get Free EMR Software Pricing #